Every Friday, Pacific Union will take a look at what's new and notable in the Bay Area neighborhoods that constitute our neck of the woods. Here's what we've got for the week ending February 3, 2012.
SAN FRANCISCO COUNTY
(San Francisco) The talk of the town this week was the flu outbreak that caused the shutdown of a popular San Francisco high school.  About 150 kids at St. Ignatius College Preparatory in the Outer Sunset district were struck with illness, prompting officials to close the school down on Wednesday and give it a deep cleaning and sanitizing. Yikes. If you're worried about your own health, read Marinscope's great article about what to do if the stomach flu strikes your home.
MARIN COUNTY
The silver salmon of West Marin are back! The appearance of the endangered fish bodes well for salmon health in California – and for folks who enjoy seeing the coho swimming in Lagunitas Creek. SF Gate discusses the return of the salmon to Marin County.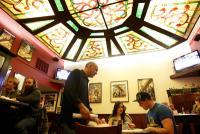 ALAMEDA COUNTY
(Alameda) The historic Croll's restaurant, founded in 1883, has been revived as the 1400 Bar & Grill (right).  The California Historical Landmark building now serves as the backdrop for a "come as you are" vibe, old-style decor and American comfort-food menu. Image courtesy insidebayarea.com.
CONTRA COSTA COUNTY
(Lamorinda) It's film festival time! The 14th California Independent Film Festival will be held in Moraga and Orinda February  10-16. Highlights will include 11 feature films, 23 short films, seven documentaries, educational seminars, and a Q&A with Lifetime Achievement Award recipient Burt Young (Paulie from "Rocky").
SONOMA COUNTY
If you think a glass of Cabernet and a slab of Ghirardelli's finest make a great pairing, you're in luck: there are five wine and chocolate festivals coming up in Sonoma County, with three on Valentine's Day weekend. Sounds like the perfect combination of romance and decadence.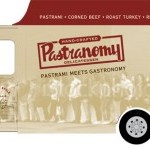 NAPA COUNTY
(Napa) The food-truck craze is coming to wine country. Downtown Napa will soon get its first "meals on wheels" outlet with the Pastranomy sandwich truck,  thanks to this week's approval by the Napa Planning Commission. There's no opening data yet, but the truck – which would offer East Coast-style ethnic foods such as pastrami, corned beef and Reuben sandwiches – is slated to have a home in a private parking lot at Clinton and Main streets. Image courtesy Napa Valley Register.