Yesterday on PUI's blog, we talked about the debate that's been sparked by Abbot Realty Group's decision to pull its listings from syndicators like Trulia, Zillow, and Realtor.com — a trio I called the TZRs.
Representatives from Zillow and Trulia commented on our post yesterday. We are excited they have joined the conversation, and I wanted to make some additional observations on the issue — with these thoughts focused on the issues of accuracy and trust.
Real estate professionals establish relationships with people based on trust, accuracy of information, full disclosure, and decision support (e.g., by offering advice and recommendations). Trust must be established first before a client will value decision support, advice, or recommendations.
If the TZRs set similar standards for their offerings, the information presented would clearly need to be precisely and consistently accurate nearly all the time. But it isn't.
And being accurate only "some" or even "most" of the time destroys trust.
Let me give you an example. If FedEx delivered 90% of its overnight packages on time, they would be on time "most" of the time. They would also be out of business. FedEx's clients trust and expect they will make the delivery on time, every time. They trust the company so much that they rarely need to use the online package-tracking service. In other words, FedEx delivers on its brand promise every day.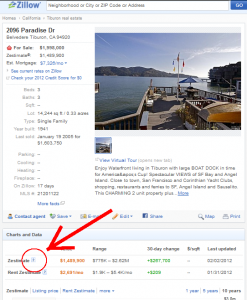 How would a Zillow visitor feel if accuracy estimates were displayed prominently next to featured photos of homes? We can't know — because they're not.
Instead, those accuracy estimates are downplayed to the point of near-invisibility.
Suppose you're on a listing page and you're wondering how accurate that Zillow estimate ("Zestimate") might be. First, you need to click on a tiny question-mark icon next to the word "Zestimate" about halfway down the page (see image on the right).
That brings you a pop-up box that tells you, in part, that a Zestimate is a "starting point to determine a home's value." If you click "Learn More," you arrive at the "What is a Zestimate?" page. You'll scroll nearly to the bottom of this long page before you see the question, "How accurate is the Zestimate overall?"
Another click will take you to the Data Coverage and Zestimate Accuracy Table, which shows estimate accuracy by top metro areas.
Adjust the display to show you states, and then click on your state to get to the information that applies to your county. And voila, at last, you get this screen: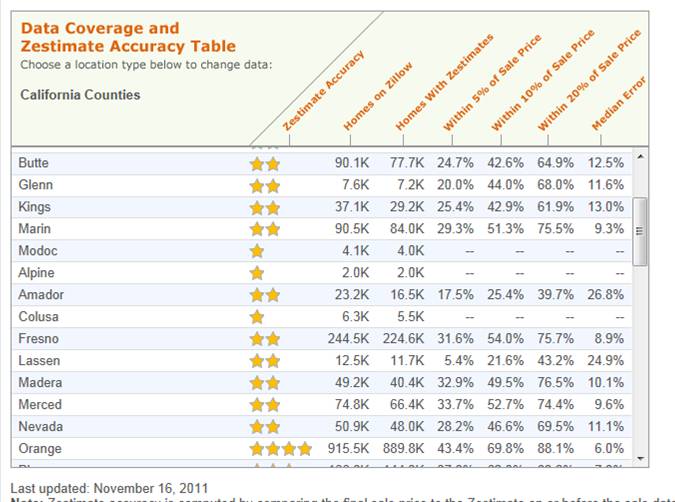 What's the point? The point is this:
It takes five clicks to discover how big a margin of error a property Zestimate might have.
And that's likely not an accident. Those median error numbers aren't something to crow about. The home I live in is in Marin County, and except for the sale price recorded, none of the estimated values for sale or rent are anywhere near reality. And the last update was over two months ago.
We suspect this information is downplayed because full, prominent disclosure regarding accuracy ratings on the TZRs's sites would fracture clients' trust – and then those clients would seek a new source of information.
The TZRs can clearly deflect responsibility. After all, the disclaimers are all there, if you look hard enough.
But as licensed real estate professionals we adhere to performance standards, codes of ethics, and California state laws requiring accuracy of information and full disclosure.
Wouldn't it be wonderful if the TZRs had to walk the same walk?
Mark A. McLaughlin is Chief Executive Officer of Pacific Union International, Inc.