Every Friday, Pacific Union will take a look at what's new and notable in the Bay Area neighborhoods that constitute our neck of the woods. Here's what we've got for the week ending February 10, 2012.
BAY AREA
How sweet it is!  Early this year, Food & Wine announced the addition of the Best New Pastry Chef category to their annual honors of the hottest fresh talent.  The Bay Area is well represented by a number of chefs nominated to the People's Best New Pastry Chef competition.  Best of luck to our local talent!
NAPA
Eighteen wineries, most asking for reservations, and none large enough for tour buses.  Coombsville, Napa Valley's newest American Viticultural Area (AVA), stands out of the crowd with a fresh friendliness, bucolic location, and some bold red wines.
CONTRA COSTA
Contra Costa County landowners will be soon be seeing a ballot for a new annual parcel fee of  $12 to $22 dedicated to improving storm water pollution issue.
MARIN
A San Rafael woman's necklace is returned after having a wet and wild adventure.  The sentimental piece was accidentally flushed down the toilet — but was found and returned by the Marin Sanitation Agency four months later.
SAN FRANCISCO
San Francisco shares the highest rank in the U.S. – for the costliest parking meter fines!  The City by the Bay is also near the top of the charts as the home of the third-highest hourly parking rates.
ALAMEDA
Oakland's Sunset House has withstood a number of eras, but is feeling the effects of the economy in spite of its Mills Act distinction.  Friends of the homeowner have organized a fundraiser this Sunday, Feb. 12 with the proceeds going towards maintaining the ownership.
SONOMA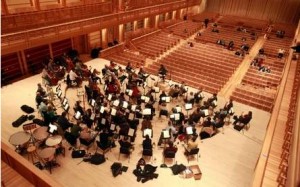 Set to kick off this fall, the inaugural season of The Santa Rosa Symphony represents years' worth of fund-raising, building, and debate. Performances are to include commissioned compositions and a new Family Concert Series.
 (Chef image courtesy of sf.eater.com; symphony image courtesy of pressdemocrat.com)