Each Friday, Pacific Union International takes a look at the people, places, and things we're talking about in our Bay Area neighborhoods. Here's what caught our eye this week: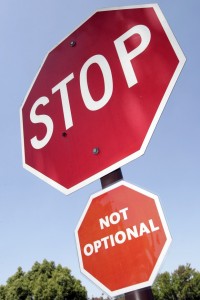 We can can all agree that there's no room in society for vigilante justice. But we can't help but feel a bit of empathy with the unknown person in Napa who got fed up with drivers ignoring stop signs in the Bel Aire Plaza shoping center and decided to add some pointed language to the state-mandated signage.
Sometime last weekend, someone attached homemade signs beneath stop signs in the shopping center. The official signs say "STOP." The unofficial signs said "NOT OPTIONAL."
The signs looked like they were printed on a home computer, then laminated and stuck to sign poles using glue and Velcro. The last of the unofficial signs was removed by Tuesday, but hopefully the message will linger.
Community leadersand residents in Richmond got together Thursday for the first public meeting ahead of a mammoth project that will redefine the Contra Costa County community: construction of a 2-million-square-foot campus of the Lawrence Berkeley National Laboratory along Richmond's southern shoreline.
The campus will be built on land owned by UC Berkeley. It will house more than 800 scientists doing research in bioscience, cancer, and bioenergy, plus hundreds more students and interns.
The new Lawrence Berkeley site will be one of the biggest building projects in the East Bay in decades. Construction is scheduled from 2014 to 2017.
The roof of Kiki Goshay's home in Kentfield will never need new shingles or a new coat of tar. It does, however, require regular watering.
Goshay's 6,500-square-foot home is topped with a living roof of California poppies, bushes, and grasses. The inside is heated with the help of tubes sunk 300 feet into the earth and lighted by electricity from solar panels.
To top if off, Goshay's home is one of 0nly 700 homes in California to win LEED certification. LEED is an acronym for Leadership in Energy and Environmental Design, a special designation awarded by the U.S. Green Building Council.
Olympic-caliber athleticism runs in the family inside one San Francisco home, where 18-year-old Alexander Massialas learned fencing from his father, Greg. The father qualified for the Olympics in 1980, '84 and '88, and now Alexander is in London for the 2012 Summer Olympics as the youngest member of the U.S. men's fencing team.
The elder Massialas runs the Halberstadt Fencers Club out of a former auto repair shop in San Francisco's Mission District, but he will be watching his son up close at ther London games: He's the coach of the U.S. men's foil team.
You can't blame Eliot Quataert, a UC Berkeley professor of astronomy and physics, for being a bit skeptical recently when he received an email message offering $100,000 a year for five to 10 years to pursue whatever research he wants.
He initially though the email was a spoof, but  it wasn't. The unsolicited offer came from the Simons Foundation, which works to advance research in mathematics and the basic sciences, and Quataert was one of 21 recipients.
Quataert's response, once he confirmed that the offer was real? "No complaints!"
Traffic congestion on East Washington Street is a popular gripe in Petaluma. And don't look for that to change any time soon, as three ongoing construction projects on East Washington near the Highway 101 Interchange promise to tie up traffic for more than a year.
The largest project is Caltrans' reconstruction of the East Washington interchange with Highway 101, including north- and southbound on- and off-ramps. Nearby, pavement is being torn up for what will be the city's largest shopping center, East Washington Place. And, just to make sure that no car escapes unscathed, the city of Petaluma has started a water-main replacement project in the area. It's scheduled for completion sometime in 2014.
Drivers, keep those civic improvements in mind when you're stuck in traffic!