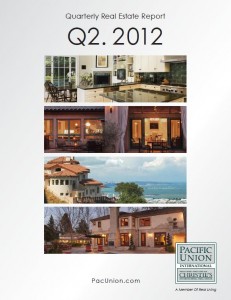 As we close the books on the first half of 2012, we're pleased with what we see in the rear-view mirror.
Here in the Bay Area, we experienced an over-30 percent increase in homes sold, year over year. Many of Pacific Union International's regions continue to show robust and dynamic growth in homes sold, putting them on track to post their best years since 2005.
And we are even more excited about what lies ahead with Bay Area real estate. We've seen numerous positive indicators in our regional data, including firm pricing, multiple offers, and fewer days on the market – all of which support the belief that the current Bay Area housing demand is indeed sustainable.
Meanwhile, sellers are slowly coming off the sidelines, and we are finally seeing an improvement in the number of available homes for sale. This suggests that people are more confident of getting the sales prices they want.
On a larger scale, the real and marked improvement in our Bay Area economic engines, particularly with job growth and the successful technology sector, indicates that the bottom of the real estate market is finally behind us and we are at long last in a new market.
Our second-quarter report is packed with data that confirms our optimism, and it also includes a conversation with Bay Area economist Stephen Levy, whose observations were posted here last week.
Another highlight of the Q2 report is a massive chart that tracks 10 years of single-family home sales throughout the Bay Area — four dozen cities in seven regions. A smaller chart showing region totals appears below; click on it to see the full data set, which includes selected cities within each region.

Below are some specifics on what's happening across our Bay Area real estate markets. For full details, please take a look at our complete second-quarter report.
SAN FRANCISCO
Single-family homes and condominiums in San Francisco sold briskly at all price points in the second quarter of 2012. The percentage of homes under contract – homes with a sales agreement in place but the paperwork not yet completed – reached its highest point in more than two years, and sales prices also posted two-year highs.
Homes that didn't sell last year but were put back on the market in the second quarter ended up selling quickly, and with no price reductions. Turnkey homes sold best – that is, homes in move-in condition. Faced with tight lending regulations, new owners are finding it difficult to get a second line of credit for home repairs and construction, so turnkey homes are desirable.
The inventory of homes for sale remained critically tight in the quarter. The number of properties for sale dropped to roughly one month's supply in the second quarter, down from three months' supply of homes one year ago and four months' supply of condominiums. Predictably, most homes sold only after receiving multiple offers.
Looking Forward: Home sales show no sign of slowing down in the year ahead, and prices will keep rising. In such a competitive market, serious buyers are advised to get pre-qualified loans and be prepared to move quickly to put in a successful bid.
MARIN COUNTY
The second-quarter real estate market in Marin County mirrored the first quarter: extremely strong sales but a limited supply of inventory. We saw multiple offers on most desirable properties, with buyers outnumbering sellers across the county.
Home prices climbed higher in the last quarter but are still below levels at the height of the market. People who bought homes in 2005 and 2006 are choosing not to sell for a reduced price, which helps explain the dearth of homes on the market.
In another continuing trend, first-time buyers had a difficult time competing against investors able to pay cash for properties. The investment market remains strong, with buyers having no trouble finding renters for their properties.
Looking Forward: There's no sign of a sales slowdown in the third or fourth quarters, putting us on track to post our best year since 2005. And home prices are rising, which should encourage more sellers to join the market and relieve the inventory shortfall.
NAPA COUNTY
With sales climbing higher, month over month, and prices rising, too, Napa County real estate posted solid growth in the second quarter of 2012. Sales would have been even higher, in fact, except for the limited inventory of homes on the market – a problem throughout the Bay Area and beyond as sellers hold off listing their homes in the hope of higher prices down the road.
We're starting to see those higher prices materialize. Home prices in the second quarter were up 2.5 percent from the first quarter, countywide, although in some communities our real estate professionals saw home prices jump 10 percent or more. Looking back to the fourth quarter of 2011, prices are up 6.4 percent.
With the limited number of homes for sale, almost every home priced under $500,000 received multiple offers in the second quarter. In the over-$1 million market, those homes priced in line with their appraised values sold significantly better than those at premium prices.
Looking Forward: Coming off a strong second quarter, the third quarter looks to be even more successful. July and August will see a seasonal slowdown due to vacations, but year-over-year sales growth will continue unabated. We expect home prices to continue rising, too, and the supply of homes for sale to slowly expand.
SONOMA COUNTY
What a difference a year makes: From June 2011 to June 2012, the median sales price of homes in Sonoma County rose 11 percent, while the supply of homes for sale shrank by two-thirds. The percentage of homes under contract jumped 125 percent, while the average number of days on the market shrank by 40 percent.
The numbers tell a story of a housing market growing aggressively while faced with limited supply. Most sales in the second quarter were for homes priced under $400,000, but the quarter also saw significant activity among homes priced from $400,000 to $3 million – a market that had been mostly dormant in recent years. We saw multiple offers on virtually all reasonably priced homes priced below $1 million – the lower the price, the greater the likelihood of multiple offers.
In another encouraging sign, we saw fewer bank-owned homes and other distressed properties for sale in the quarter, and more equity sales – enabling sellers to rejoin the market and buy something else.
Looking Forward: The real estate market has not yet recovered from its 2008 collapse, but the coming year will see solid progress in that direction. We fully expect home prices to continue rising, which will encourage more sellers to put their homes on the market, creating a healthy, more balanced market. The market for $1 million-plus second homes will continue to expand, a product of the Bay Area's strong economic recovery.
SONOMA VALLEY
The Sonoma Valley communities of Glen Ellen, Kenwood, and Sonoma had an extremely active second quarter, with a greater percentage of properties under contract than we've seen in more than a year – this despite a shrinking supply of homes on the market. As a result, homes sold in June 2012 in half the time it took one year earlier.
Homes selling for less than $500,000 were the most active in the quarter, with many homes getting multiple bids before they sold. Homes selling for $500,000 to $1 million significantly picked up the pace, too, and the $1 million-plus market attracted interest it hasn't seen in quite a while. Investors were increasingly active in the area, and also second-home buyers in all price ranges.
Home prices started to rise by the end of the second quarter, although they remain below the levels reached in 2006 and 2007. Sellers who sold their properties without price adjustments received an average of 97 percent or more of their asking price by the end of the quarter, a marked improvement from previous quarters.
Looking Forward: If the Bay Area economy continues at its current strong pace, the Sonoma Valley will see increasing real estate activity through the end of the year. Prices will continue to rise, hopefully encouraging more sellers to step off the sidelines and help create a more balanced market. First-time buyers will continue to face competition from investors in the under-$500,000 market and may find themselves on the losing side of bidding wars more than once.
EAST BAY 
East Bay home prices turned a corner in the second quarter of 2012, with selected communities in Alameda County posting median sale prices up 28 percent from the previous quarter. Also, final sale prices exceeded the original asking prices for each of the past five months.
The number of homes sold also increased in the second quarter, although buyers continued to outnumber sellers. We saw multiple offers on more than 65 percent of homes sold during the quarter, making for an extremely active market. Many of the buyers came from San Francisco. After being priced out of the market there, they found homes much more affordable in the East Bay.
Investors remained active in the market, with one- to four-unit buildings in high demand.
Looking Forward: Rising home prices hopefully will lure more sellers into the market in the coming months, creating a healthy, balanced market and driving home sales to their highest levels in since 2005. Buyer demand is certainly strong enough to absorb the new inventory; in fact, buyers have been frustrated in recent months competing against investors able to make all-cash offers for a limited supply of homes.
CONTRA COSTA COUNTY
Contra Costa County continued to see strong home sales in the second quarter of 2012, and the numbers would have been even higher if not for the limited inventory of homes on the market.
Sellers remained largely on the sidelines during the quarter, and the shortage of homes, coupled with eager buyers, made for predictable results: multiple offers on virtually all fairly priced properties below $1.3 million. But buyers, faced with tight lending policies from banks, generally didn't bid on inflated listings. (Investor-buyers, able to pay cash, were the exception.) Homes priced significantly beyond their appraised value sat on the market longer.
The number of homes under contract — homes with a sales agreement in place but the paperwork not yet completed – continued to climb throughout the quarter. Significantly, the median sales price also rose in the second quarter, compared with the previous quarter.
Looking Forward: With growing confidence in the economic recovery, we expect to see home prices continue rising throughout the rest of the year, gradually attracting more sellers to put their homes on the market. Sales will slow during the vacation months of July and August, as is typical, and then pick up again at the end of the third quarter and into the fourth. We remain on track to see our best year in at least five years.