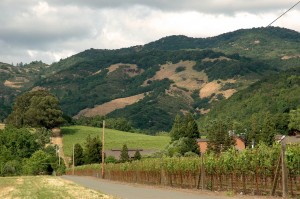 One of Sonoma Valley's best-kept secrets, the unincorporated town of Kenwood has seen its home prices rise significantly over the past year – a trend real estate professionals believe will continue in coming months.
"In that particular community, the higher-price properties are selling more actively now," said Jill Silvas, vice president of Pacific Union International's relocation services and branch executive for our Sonoma Valley offices. "Consumer confidence is rising, especially in the second-home market, and Kenwood's a huge second-home market."
Between Jan. 1 and Aug. 31, the average price of a single-family home sold in Kenwood increased 23 percent over the same period in 2011, rising from $892,136 to just over $1.1 million, according to MLS data. The number of homes sold during those same months in 2012 was up 43 percent over 2011, increasing from 14 to 20.
The scenic community of 1,028 offers a rural feel, an array of wineries, beautiful hills, and a convenient location between Sonoma and Santa Rosa.
It also boasts a small, highly ranked elementary school district with a preschool and after-school center. The Kenwood Elementary School District runs through sixth grade and earned an Academic Performance Index score of 902 last year. Class sizes average fewer than 20 students per room.
A small residential neighborhood surrounds the Kenwood Village Center with its market, post office, wine tasting rooms, and restaurants. Larger estates and vineyards tend to be located in the hills. Outside of the village center, most properties rely on septic systems and private wells.
Kenwood is home to a number of wineries including Chateau St. Jean, Ledson Winery & Vineyards, and Kenwood Vineyards.
Most homebuyers considering Kenwood "are really looking for that rural lifestyle, while being very close to city-type services," Silvas said. "We get a lot of buyers from San Francisco, second-home buyers, and people who like to retire up here, or their jobs allow them to work from home."
Buyers looking to leave the city for a more tranquil lifestyle should keep in mind that while the area is "very serene," agricultural communities come with noises of their own, Silvas said.
"When I first moved up here, I had calls from buyers who said, 'There's a rooster next door and he makes noise all night long,' " she said. "But to me it adds to the ambiance of living in this area. It's wonderful."
(Photo of Kenwood courtesy of Russell Mondy, via Flickr.)