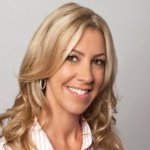 Pacific Union International is excited to share the news that Lisa Norman, our former director of marketing, has joined Coldwell Banker Residential Brokerage.
She has been named the company's new regional vice president of marketing. Lisa will oversee all of Coldwell Banker Residential Brokerage's marketing operations in Northern California, Colorado, and Utah.
Lisa left Pacific Union International in January 2012. While at our company, Lisa was instrumental in leading the rebranding efforts of Morgan Lane Realty in Marin and Pacific Union to create our company's current market positioning.
She also drove innovation within our company by modernizing and improving digital tools used by our real estate professionals, by managing our advertising efforts, and by creating multi-tiered, multi-use marketing programs.
Previously, Lisa was with Morgan Lane from 2007 – 2009. Before entering the real estate industry, she worked as a senior media planner for the Adsert Group and as an associate producer of E! Entertainment Television.
Please join us in congratulating Lisa on her new role and wishing her success!