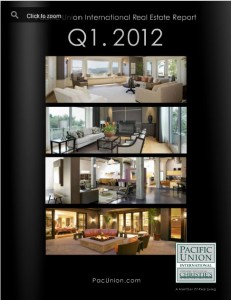 A pair of home sales reports released Tuesday seemed to splash cold water on the prospects of a housing market recovery, with the U.S. Commerce Department announcing a 7.1 percent drop in new-home sales in March, and the S&P/Case-Shiller Home Price Index logging a 3.5 percent drop in prices in February.
But here's one thing the reports don't mention: You can't paint the Bay Area with the same broad brush as the rest of the country.
In marked contrast to the national reports, we're not seeing these gloom-and-doom numbers here in California or the Bay Area.
In fact, first-quarter results here at Pacific Union International show a recovery well under way and all signs are pointing to our best year overall since 2005.
And our local numbers are backed up by another report out Tuesday, from the California Association of Realtors, which found that pending home sales statewide rose for the third consecutive month in March.
The C.A.R. said its Pending Home Sales Index rose from a revised 126.5 in February to 143.7 in March, based on signed contracts. The March index was the highest since April 2009, when the PHSI was at 146.9.
The C.A.R. index also was up significantly from the 128.9 recorded in March 2011, marking the 11th consecutive month that pending sales were higher than the previous year. Pending home sales are forward-looking indicators of future sales activity, providing insight on the future direction of the market.
Here at Pacific Union, our first-quarter market report offers proof why national sales figures don't tell the full story of local conditions and activity.
Our agents helped sell 3,717 single-family homes in the first quarter of 2012, up 6.1 percent from the year before — and we feel sales would have been even higher if not for a limited supply of properties on the market.
In certain areas, we saw even bigger percentage increases in sales from Q1 2011 to Q1 2012. Marin jumped 8.8 percent, while Sonoma Valley and Sonoma County were each up over 14 percent.
The takeaway here? The national headlines don't tell the tale for the Bay Area. We are seeing compelling indicators that home sales are increasing, prices are stabilizing, and buyers are returning to the market.
And we're looking forward to a strong 2012 — right here in our back yard.