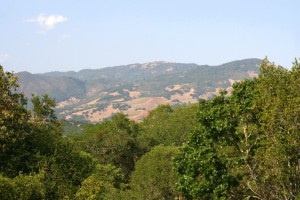 Located on the southeast slope of Sonoma Mountain, Diamond A Ranch Estates is a rural subdivision of about 200 homes that's a favorite among horse lovers for its miles of equestrian trails.
"Diamond A is close to town, but with a rural feel and larger parcels of land, and many properties have great views," said Jill Silvas, vice president of Pacific Union International's relocation services and branch executive for our Sonoma Valley offices.
"At the higher elevations, many of the properties in Diamond A sit above the fog line, which is an incredible sight on days when the valley is shrouded in fog," Silvas said.
The neighborhood features a recreation center with a swimming pool, playground, soccer and baseball fields, equestrian arena, and tennis courts. Community events take place throughout the year, including an Oktoberfest celebration, a crab feed, movie nights, and barbecues.
Diamond A also boasts its own volunteer fire station.
Younger residents attend schools within the Sonoma Valley Unified School District; other options include the independent Presentation School and St. Francis Solano School.
Parcels in the neighborhood are large, ranging in size from about one acre to more than 10 acres, and many vineyard and equestrian properties are located in the area. Home designs vary, as early residents built each property individually rather than as part of a development, Silvas said.
Diamond A homes for sale range from around $600,000 to more than $3 million, with year-to-date sale prices averaging about $800,000, according to MLS data. By comparison, Sonoma homes for sale went for an average $628,451 in October.
Many Diamond A buyers include families and those looking for second homes.
Although there are no shops or restaurants in the residential neighborhood, Diamond A is just a 10-minute drive from downtown Sonoma, and grocery stores including Safeway, Sonoma Market, and Whole Foods Market are nearby.
"Diamond A is a desirable area because of its close-in location yet rural feel, and the emphasis on equestrian activities is an (interest) of many residents," Silvas said.
(Photo of Sonoma Mountain by Erin and Lance Willett, via Flickr.)