Whether you're shopping for a weekend vacation home not terribly far from the Bay Area's urban core or a permanent place to get away from it all, the tiny coastal hamlet of Dillon Beach should be on your list of places to check out.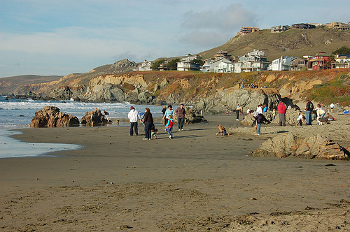 Located in extreme northwestern Marin County, Dillon Beach isn't very big, and if you're not paying close attention, you might miss it. The off-the-beaten-path community of about 300 residents lies about four miles west of Highway 1 and the equally small community of Tomales, approximately 55 miles north of the Golden Gate Bridge.
Like other communities along the California coast, Dillon Beach is a place of great natural beauty, and many homes in the community offer spectacular views of the Pacific Ocean. Highway 1 provides access to Bodega Bay and the rugged Sonoma County coastline to the north and Tomales Bay and Point Reyes National Seashore to the south.
Dillon Beach Resort, owned by Sonoma Valley wine magnates Fred and Nancy Cline, is the only privately owned and maintained beach in Northern California. The beach is open to the public year-round and is dog-friendly, a major draw for locals, one of Pacific Union's top Dillon Beach real estate professionals says.
If you're looking to take a break from the hubbub of the Bay Area and unwind, Dillon Beach is a fine place to do it. The resort has a small general store for basic necessities, a restaurant, and a surf shop, but that's the extent of commerce in this laid-back community. When it comes time for major shopping trips, most residents head to Petaluma, about 30 minutes away.
Despite its small size, Dillon Beach has three distinct neighborhoods. Oceana Marin features more modern, custom-built homes, while properties constructed in the 1920s through the 1940s are commonplace in the Village. The Landing neighborhood is popular with boat owners thanks to its proximity to Tomales Bay.
Although Dillon Beach flies under the radar of many tourists, homebuyers from places like San Francisco and the East Bay have been catching on. Our real estate professional says that many Bay Area residents who buy homes in the community plan to use the property as a combination weekend getaway spot and vacation rental.
Compared with other Northern California coastal communities, homes in Dillon Beach remain relatively affordable. According to MLS data, the median sales price for a single-family home was $500,000 in March, though prices have ranged from $468,000 to $852,000 over the past year.
(Image: Flickr/Momboleum)