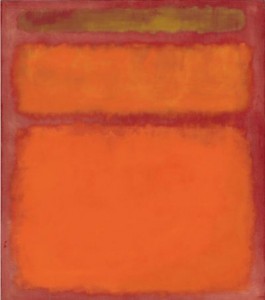 An auction of contemporary art Tuesday night at Christie's in New York blew past pre-sale estimates as buyers paid a record $388.5 million for works by Mark Rothko, Jackson Pollack, and others.
It was an incredible sale, by all accounts, and it suggests that real estate sales are poised to set new records, too.
"The major auction houses measure the health of the auction environment by looking at corporate profits and high-end residential real estate sales activity," says Patrick Barber, president of the San Francisco region here at Pacific Union International.
"If you look at it in reverse, these auction results are a clear sign that buyers are back. They're spending money at auctions, and they're spending it on real estate.
"We're seeing that right now. A home in Noe Valley had 51 offers and it just went for 65 percent above its asking price."
In fact, we're seeing eager buyers across the Bay Area. Earlier this week we posted our real estate market update for April, which showed that nearly half of the homes on the market in both Contra Costa and Marin counties had sales contracts in place at the end of the month. In Alameda County, the percentage of homes in contract has been rising steadily since September, and 41 percent were in contract by the end of April. Other counties are reporting similar figures.
The only shortage we're seeing is in the number of homes on the market, and in all likelihood that will soon change as we see further evidence that the housing market is in the midst of a solid and sustained recovery. Homes are affordable, and interest rates are still near record lows.
And by the way, if we seem especially happy with the results of Tuesday's art auction, it's partly because of our connection to Christie's.
Pacific Union is the Bay Area's exclusive affiliate with Christie's International Real Estate, the only real estate network wholly owned and operated by a fine auction house. Christie's International sold three of the four most expensive residential properties in California in 2011, including the $85 million Aaron Spelling mansion in Los Angeles.