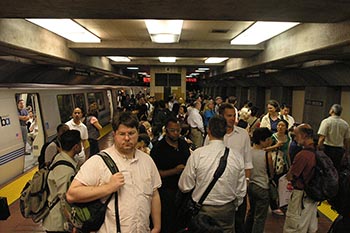 The Golden State created more than 50 percent of the nation's jobs this spring, as California's unemployment rate fell to a nine-year low last month. And in several pockets of the Bay Area, jobless claims have dropped to levels not seen since the dot-com era.
According to the latest monthly numbers from the California Employment Development Department, the state added 15,200 new positions in May, in line with low numbers nationwide but likely to be revised upward. In a report commenting on the employment data, the Palo Alto-based Center For Continuing Study of the California Economy said that the state was responsible for more than half of the nation's new jobs in April and May.
California's unemployment rate fell to 5.2 percent on a seasonally adjusted basis, the lowest since March 2007, according to EDD data. Unemployment dropped from the previous month in every Bay Area county, and all nine counties now have jobless claims of less than 5 percent — generally the benchmark used by economists to constitute full employment.
Alameda County's unemployment rate declined to 3.8 percent on a nonseasonally adjusted basis in May, the first time it has been below 4 percent since May 2001. Marin County hit a similar milestone, with the unemployment rate falling to 2.8 percent, also the lowest since May 2001. In San Francisco, the unemployment rate dropped to 2.9 percent; jobless claims in the city haven't been below 3 percent since the final month of 1999.
The unemployment rates across the rest of the Bay Area: Contra Costa County 4.0 percent, Napa County 3.4 percent, San Mateo County 2.6 percent, Santa Clara County 3.3 percent, Solano County 4.9 percent, and Sonoma County 3.5 percent.
CCSCE says that the Bay Area remains California's job-growth leader, helping to close the gap between the statewide and national unemployment rate, which fell to 4.7 percent in May. As Pacific Union Chief Economist and Vice President of Business Intelligence Selma Hepp notes in her most recent economic analysis, California has grown jobs by 2.8 percent in the past 12 months, outpacing the national growth rate of 1.7 percent.
San Jose has led the Bay Area for new jobs over the last year, adding more than 41,000 positions for a growth rate of 4.0 percent. And the region's economic prosperity is spreading to adjacent Central Valley counties, with the Stockton metropolitan area growing jobs by 4.4 percent on an annual basis.
(Photo: Flickr/juicyral)