Financial coach Terry Banks started Bank On It Financial Coaching to help clients gain financial literacy and skills to empower them to live better lives. Read our Q+A with Terry below.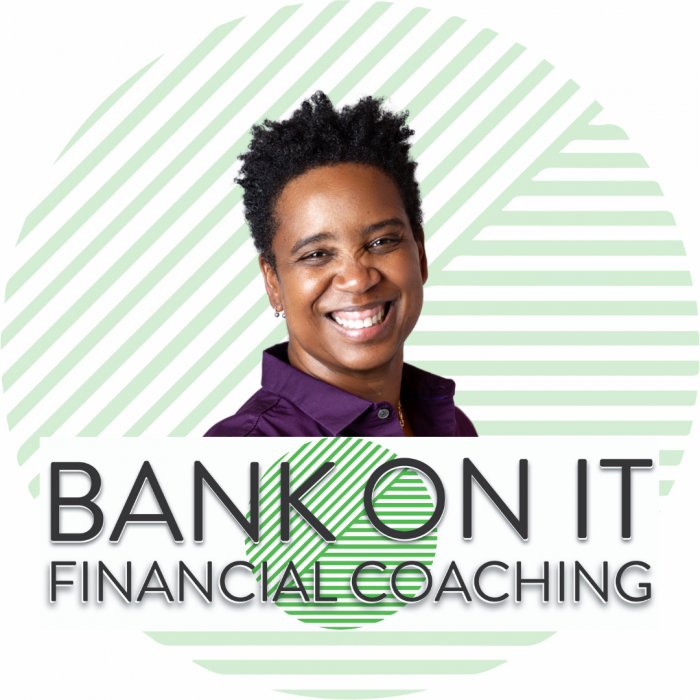 ---
1. Tell us about your business, how you got started, and why you're passionate about it.
I'm a financial coach. I specialize in guiding professionals to efficiently manage their finances so that they can shift from being frustrated with living paycheck to paycheck to achieving their definition of financial freedom. I don't sell insurance or investments. My product is an empowered client that understands how to navigate the financial obstacle course to achieve financial security.
I started Bank On It Financial Coaching after heeding encouragement from friends who benefited from years of informally sharing what I learned along my journey to financial freedom. During the process of digging myself out of consumer debt and becoming financially literate, I realized that I wasn't alone in my limited understanding of how money works.
As Black people, it's still fairly common to be the first in our family to go to college and/or make what could be considered good money, at least "on paper." It's because of this pioneering that we may not have folks in our inner circle, be they family or friends, that have experience with how to best manage finances. We don't have the opportunity to lean on them for guidance and to leverage their learnings.
People share with me that they are embarrassed because that they don't already have a handle on their personal finances. Well, the cheat codes for the game of adulting aren't automatically downloaded just because we hit a certain age. That's a major part of why I need to do this work. I want to destigmatize not magically knowing the ins and outs of personal finance even though it's not taught in schools.
I bring context and joy to this topic that can be so very daunting and stressful. Personal finance has the reputation of being inaccessible and intimidating. I don't do impersonal finance. I want my clients to feel empowered to make decisions that are proactive, intentional and in alignment with their goals. I'm the judgment-free auntie that you can confide in that will keep a secret yet keep it real.
2. What do you want real estate agents to know about hiring you?
I'm a Taurus, so home is a very high priority for me. There's a special place in my heart for my clients that are preparing to buy a home, especially first-time homebuyers. I enjoy being a financial coach for couples and helping them to improve their communication and teamwork skills so they are prepared to take on the responsibility of a mortgage payment and all the expenses that come with a home.
My first home was an REO fixer-upper 4-plex financed with an FHA 203k. INTENSE! All 4 units needed work and my wife and I unit-hopped for months avoiding work zones until we eventually lived in only one unit and rented out the others. Our marriage came through that experience with many more good memories than bad so we financed our current single-family home with an FHA 203k loan (also not a Streamline). I grew and learned a lot, but the purchasing of the fourplex changed the trajectory of my life.
3. Where do you see your field heading in the future?
Financial Advisors and Planners are recognizing that financial coaching is complementary to their services. They've begun to integrate aspects into their offerings or partner with an independent financial coach to work with current clients. Some refer potential clients that don't currently meet their investment minimums to work with a Financial Coach to prepare them for investing. That's a win for all parties but especially the person that would have otherwise been turned away.
Financial coaching is fairly new and often misunderstood as a profession. We help people with their personal financial goals related to managing daily spending, saving for personal goals, and managing debt and preparing to invest. I'm a huge fan of the holistic aspect of financial coaching. The dollars and cents are absolutely important yet mindset and behaviors impact the decisions that we make. With our head and heart in the game, we increase our chances of reaping the benefits of being financially responsible.
Although I personally manage my own investments, as a financial coach, I'm not licensed to advise about investments. The work that I do can prepare people for investing. Creating a plan and developing the discipline and patience to follow the plan are some of the same skills that are used for investing. I see my profession as an important part of empowering individuals to reach their goals, which can have positive effects for generations to come.
4. Are there any trends in your field that you're a fan of? Any you'd like to see retired?
I'm a fan of employer-sponsored financial wellness programs, which are becoming more common as employers recognize that financially confident employees are more productive and loyal. Employees' financial stress directly impacts absenteeism, presenteeism, morale, and the bottom line. Employees that understand how money works can also translate that knowledge into being a good steward of company resources.
Most saving for retirement happens through the workplace and participation in the company 401k is highly encouraged by the employer. However, if an employee feels stuck trying to figure out how much discretionary income they have so that they create an emergency fund or get debt elimination help, it's likely that they won't have the confidence to increase their 401k contributions or participate in other company benefits.
I'm not a fan of the one size fits all debt elimination advice that demonizes all use of credit and debt. Using the cash envelope system to reduce impulse spending is extremely beneficial and I support my clients that prefer this method. We're moving toward a cashless society and people need to understand how to maneuver an evolving financial landscape. Some people would thrive with the proper tools and knowledge of efficient, intentional and proactive budgeting methods. With a system in place, using a credit card to take advantage of the protections and rewards that responsible credit card use provides is a win for the consumer.
Leveraging good debt for homeownership can also protect against rising rents and help to support a goal of living debt free. Generational wealth has been created primarily through home equity. Not participating at all in homeownership because a 10% downpayment is out of reach eliminates lots of potential buyers and their opportunity to build equity for themselves instead of their landlord. I'd much rather pay private mortgage insurance (PMI) temporarily than pay rent forever, especially now in this low-interest environment.
5. What is your favorite project you've worked on and why?
My favorite project is my financial journey, because it led me to financial coaching. Before officially making my mess my message, I enjoyed a 20+ year career in operations and supply chain management at high-growth small businesses and startups. No matter how much my heart was in my work, I always had a haunting feeling that something was missing. Now I know what was missing and I also get to utilize my passion for lean principles and process Improvement to identify opportunities to accelerate goal achievement for my clients.
6. What keeps you motivated?
I have the best seat in the house! I get to witness aha moments that transform lives.
Everyone receives negative messaging just from being alive in our "keep up with the Joneses" consumeristic culture. My clients have the opportunity to start the healing process as well as become intentional about using their money for their true priorities not just what the marketing departments and the masses think that they should buy.
Because of the magic of compound interest, my clients save more than they pay for my financial coach fees. The work that I do is more than teaching them how to get out of living paycheck to paycheck and creating a debt elimination plan. The principles that my clients implement are the foundation of building generational wealth because their families also get exposure to healthy money habits. Some kids aren't even born yet that will have a different experience than I had and their parents had growing up. Let's go!
7. What's your favorite thing about your job?
My favorite thing is that I get to be my nerdy, joyful, empathetic, practical, curious and optimistic self doing work that I absolutely LOVE.
My inner child is the big boss and her priorities are to have fun and learn and I bring that energy into my coaching. This is a hobby that turned into a calling and it's something that I'll always want to do in some capacity because I enjoy it so much.
8. How has your work changed since the pandemic and social distancing?
I started my business in early 2019 intentionally designing it to operate based on the lifestyle that I wanted which meant that all of my financial coaching sessions would be virtual. My competing priorities are enjoying the flexibility of early retirement while fulfilling my personal mission of helping others on their personal finance journey. I don't have plans to be a hardcore digital nomad but I do want to be able to work from anywhere with an internet connection. Just one year after hanging out my shingle the pandemic started. As an introvert, social distancing allowed me to get my footing while everyone else was also discombobulated.