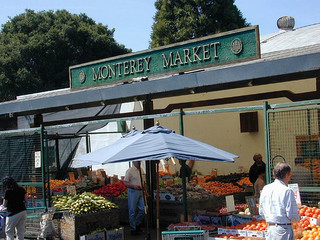 While the Gourmet Ghetto put Berkeley on the country's culinary map, lesser-known and quieter Northbrae has its own rich food history — as well as other pluses — that make it popular with East Bay homebuyers.
As its name implies, Northbrae is located in northern Berkeley, roughly bordered by the city of Albany to the west, Marin Avenue to the north, Arlington Avenue to the east, and Hopkins Street to the south. Neighborhood residents who commute to San Francisco for work can stroll to the North Berkeley BART station in just a few minutes, and AC Transit bus line H provides direct weekday service to the city during peak periods.
Northbrae isn't large and neither is its business district, but the two-block stretch of Hopkins Street between Sacramento Street and McGee Avenue could be one of the best and most historic grocery-shopping strips in the East Bay.
A neighborhood institution for more than 50 years, Monterey Market is well-known for its incredibly fresh produce supplied by local farmers. On the next block, shoppers can hit Magnani's Poultry, purveyor of organic meats since 1917, or the Monterey Fish Market, which has been selling fresh seafood to Berkeley residents since the late 1970s. Residents can round out their grocery shopping at Country Cheese Coffee Market and find the perfect wine pairing at Northbrae Bottle Shop.
If you're not in the mood to cook, locals swear by Gioia Pizzeria, also located on Hopkins Street. The Hopkins Street Bakery serves up a wide variety of baked goods, and Espresso Roma Cafe's outdoor area is a good place to get a caffeine fix on a warm day.
Northbrae homeowners who want to spruce up their yards and gardens don't even have to leave the neighborhood to purchase supplies. In business for almost a century, Berkeley Horticultural Nursery offers up a wide array of plants, flowers, and trees, as well as helpful gardening tips.
Northbrae has a quieter, more suburban feel than many other Berkeley neighborhoods, making it popular with families. Homeowners with children also appreciate that Northbrae is home to the North Branch of the Berkeley Public Library, as well as King Pool at Martin Luther King Jr. Middle School. Nearby Cedar Rose Park and Live Oak Park feature playgrounds, basketball courts, and sports fields, and the Crowden Music Center offers music education and instruction courses to youths and adults.
Many homes in Northbrae are set along sloping streets and range in style from bungalows to larger properties near the Marin Circle Fountain. Due to the neighborhood's small size, high desirability, and slim supply of available homes, buyers have been digging deep as of late in order to purchase properties here.
According to MLS data, the median sales price for a single-family home in the Northbrae vicinity was $1.15 million in October. Homes have been selling for well over original price for most of 2014, and in October, buyers paid an average of 23 percent more than list price. Constrained inventory is helping to drive the overbids; in October, the months' supply of inventory in the area was 0.6 after dropping to as low as 0.3 in June.
(Photo: Flickr/Ira Serkes)