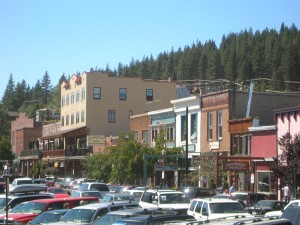 Truckee is already abuzz about the upcoming Fourth of July Parade.
The annual event is a quintessential display of small-town Americana and a highlight of the summer season in the Sierra Nevada mountains. This year's parade will celebrate 150 years of settlement in the region, and Truckee's downtown district — added to the National Register of Historic Places in 2010 — will be awash in red, white, and blue for the occasion.
History isn't locked in a museum in Truckee. It's everywhere you turn, and it's accessible and welcoming.
"Truckee is a charming mountain town with an enormous amount of history," said Sally Gardner, branch executive in Pacific Union's Tahoe/Truckee region.
"It's a family-oriented community, and it attracts a lot of people with a passion for the outdoors."
There's world-class skiing, of course, but in the summer months Truckee also attracts hikers, nature enthusiasts and active people of all ages and abilities, drawn by the region's stunning beauty and crisp mountain air.
Truckee is a three-hour drive from the Bay Area and a convenient hub for those traveling farther to Reno or Lake Tahoe. Unlike nearby ski communities, Truckee offers a full array of local amenities including schools, a hospital, banks, and a wide variety of retail shops and restaurants.
"It's a vibrant community," Gardner said. "Many people have second homes here, but Truckee has more full-time residences than other developments in the area that are more focused on vacationers."
Moody's Bistro & Bar, located in the historic Truckee Hotel, remains a popular spot with residents, and musician Paul McCartney has entertained locals there on more than one occasion. The former Beatle is a regular visitor to the area, whose unannounced, closed-door sessions immediately become the talk of the town.
Other popular restaurants include Dragonfly, Cottonwood, Drunken Monkey, Manzanita (at the Ritz-Carlton Lake Tahoe), and Stella (at the Cedar House Sport Hotel).
Truckee homes for sale tend to be more affordable than those close to Lake Tahoe. The town has seen more new-home construction than other communities in recent years, with condominiums in particular demand.
Sales have been brisk this year, with more homes coming on the market than in the recent past. The Tahoe Donner development, Truckee's largest neighborhood, currently has 74 homes for sale, double the number available two months ago, Gardner said.
"The sweet spot, in terms of price, seems to be $375,000 to $550,000," she said. Of 77 pending sales in Truckee, 54 are priced below $500,000.
Home sales are busiest now through the fall, as children get out of school and vacationing families visit the area.
"It happens all the time," Gardner said. "Vacationers come to town and they fall in love with the area, and they make a decision to purchase property as a second home."
(Truckee photo courtesy of Jeff Myers, via Flickr.)