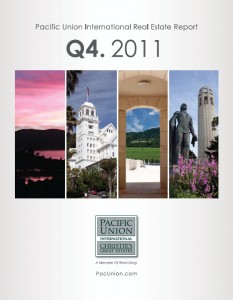 The Pacific Union International Q4 Market Report is out, and the news is good. Why? Because it looks like this could be one of the finest times in the past twenty years to be a buyer of real estate, assuming you're in for a five-year-hold or more.
The market fundamentals, single family home prices, and historically low interest rates have combined to create an opportunity that will be reflected upon years down the road as "the time to buy."
This is one of my favorite quotes from the past several months and it captures this opportunity perfectly:
"Today, there's another mortgage crisis in the works — that is NOT having one … " Liz Davidson, CEO, Financial Finesse
Hope you share our optimism! Read the report and let me know what you think.
Sincerely,
Mark A. McLaughlin, CEO, Pacific Union International