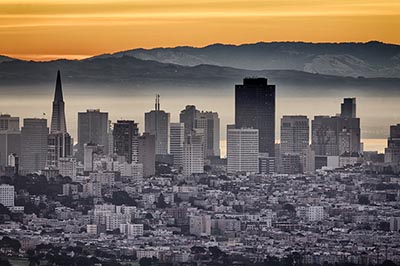 Low inventory and rising mortgage rates are motivating homebuyers as the year kicks off, with three Bay Area cities ranking as the nation's most sought-after real estate markets.
That's according to Realtor.com's January analysis of the nation's 20 hottest housing markets as determined by most listing views on its website and fewest days on the market. Nationwide, homes are selling 4 percent faster than they were one year ago while inventory is down by 11 percent. The median list price held steady from the previous month at $250,000, setting a new record for January.
In a statement accompanying the report, Realtor.com Chief Economist Jonathan Smoke said that higher mortgage rates continue to create a sense of buyer urgency. After several weeks of declines, 30-year, fixed-rate mortgages increased for the first time this year yesterday, rising to 4.19 percent for the week ended Jan. 26, according to Freddie Mac.
As usual, California real estate markets reigned supreme on the hot list, taking 12 of the 20 spots and eight of the top 10. The San Francisco metro area — which includes nearby cities such as Oakland — continued its streak in the No. 1 position, with the median-listed $799,500 home selling in an average of 47 days. San Francisco has held the top spot on the list for five consecutive months, as well as for most of the past year.
San Jose moved up the rankings two spots from December to land at No. 2. The city is the list's most expensive, with a median price of $861,200, and also its fastest moving, with homes selling in 45 days. Vallejo, which had a stint at the top of the list last summer, held steady in the No. 3 position, with the median $424,700 home finding a buyer in in an average of 59 days.
The other Golden State cities on Realtor.com's January 2017 hot-markets list: San Diego (No. 5), Sacramento (No. 6), Yuba City (No. 7), Stockton (No. 9), Fresno (No. 10), Oxnard (No. 11), Modesto (No 16), Los Angeles (No. 17), and Santa Rosa (No. 19). All nine of those California cities also made Realtor.com's December hot list.
(Photo: Flickr/Pradeep Sawlani)