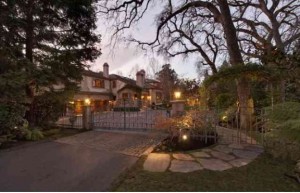 An Alamo estate that combines two adjoining properties caught the attention of the San Francisco Chronicle, which featured the property on the front page of its Real Estate section on Sunday.
The 5,411-square-foot main house at Villa Sorella, a Pacific Union International property at 320 Iron Horse Court, was built in an Italian style and has four bedrooms and 4½ baths. A neighboring guesthouse, with five bedrooms and 3½ baths, is accessible through its own entry gate.
The estate also has a separate fitness center, a new-media cottage with built-in theater, tennis and basketballs courts, swimming pool and spa, an outdoor living room, and two three-car garages.
The estate is listed for sale at $6.25 million, although the main house and guesthouse are also available as separate properties. On its own, the main house is listed at $3,895,000. The guesthouse, at 409 Horsetrail Court, is listed at $2,395,000.
Dana Green, the Pacific Union real estate professional handling the listing, told the Chronicle that Villa Sorella was designed so that its owners "could live in one house privately and entertain in the other." The design also allowed the family to host family, friends, and business associates on the property whenever they wanted.
"It has meandering paths and an expansive lawn that's amazing," Green told the Chronicle. At one time, she said, the backyard was turned into a campground for the owners' daughters and their friends, with room for 14 families.
We're proud to have had this property selected by the Chronicle as the subject of a feature article. Want to see more? Get all the property details, or take a virtual tour to get a full overview of this amazing home.
Read the full Chronicle story: Adjacent homes complete Italian-style estate