Borrowing fron Buffet — Work From Home — Day 366
4:49AM PST
Team –
When your back is against the wall, peak performance rules the day!
It has been a very long year. We have individually and collectively been tested emotionally, mentally and, for some, physically. We have a few examples of the ultimate challenge and loss.
Today represents the first anniversary of Where We are Now. We entered SIP with an expectation of a three-week lockdown. Our initial challenges, as reflected in our surveys, were about Open Houses and Brokers Tour. What a year it has been!
In the last year, we have learned to listen — like never before. We have refined and delivered compassion — like never before. Meeting people "where they are" emotionally — like never before. It is a gift you gave your clients. It came at a price and tested all of your strength and emotion.
We have moved at a pace without seasons, without a lull, without a break. Like you, I felt a responsibility to carry my clients' (you) during the first several months of SIP and then my role changed to get "out of the way" and let my clients' demands drive the pace.
To borrow from Buffet, "Never bet against America," never bet against this team! I am so humbly proud to play on this team! Your character, tenacity and unlimited passion for client services is impressive and beyond.
Five Charts tell the story of our economy and how our society has suffered. Industries that thrive on a sense of community have been challenged the most. Travel, restaurants, movie theaters, theater, places of religion, youth sports and even our very own gatherings have all been missed.
As published by Bloomberg this weekend:
"A year into the pandemic, the U.S. may be close to emerging from the economic hole dug by the coronavirus, and on the path to its biggest expansion in decades. President Joe Biden set July 4 as a goal for the country to begin returning to normal, with all adults eligible for vaccines by May 1. After the passage of his $1.9 trillion rescue bill, qualifying Americans may see their $1,400 payment as early as this [coming week], though an estimated 8 million people were left out at the last minute. The coming rebound, however, worries some stock investors who have to recalibrate due to rising treasury yields."
The truly amazing dynamic from a macro-economic perspective is the USA M2 money supply. M2 = M1 [coins, money in circulation, checking accounts) + savings deposits + money market funds + certificates of deposit + other time deposits.
Nearly a $4 trillion increase since March 1, 2020. Did you get yours?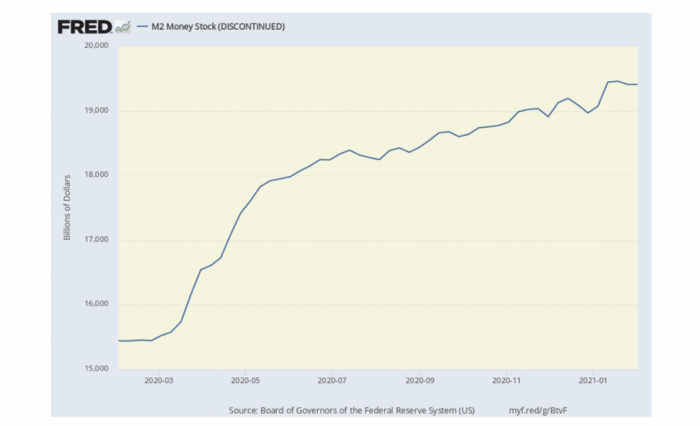 The sheer volume of money on the sidelines in the hands of consumers is unprecedented – consumers deleveraged in 2007 to 2011 and are now liquid and ready to spend on the same services that suffered the most and referenced above – make your travel reservations now!
Words cannot describe the sense of pride I have in our team. On the day we see each other again, in a group gathering, you will see it in my eyes and in my emotions – it will be equally rewarding and emotional.
I love being a part of this team. Each one of you is truly amazing.
Never, ever, bet against this team!
This is Where We are Now.
Thanks!
Mark
Mark A McLaughlin