Work From Home — Day 80
Another Set-Back, but an Extraordinary New Partner
5:00AM PST
Today's Where We Are Now is continued from Where We Are Now: June 4, 2020, The Beginning of our Journey – Setbacks Hurt.
---
Team –
34 days from closing, I called Dave Lacey with the news of "no financing." Dave's response, "any other prospects?" I responded, "yes a few." Dave said, "let's catch up in a week."
Catch up in a week was a lifeline!
Two days later, 32 days before closing, I received a call from a now former PUI real estate professional saying Bill Foley, now the Non-Executive Chairman, Fidelity National Financial, Inc. [NYSE: FNF] would like to meet with you about acquiring a real estate company that you [Mark] would run. He would like to meet in Sonoma, at one of his wineries, tomorrow at 9AM. He has 20 minutes allocated for the meeting.
Bill had an agenda for this meeting. As you can imagine, I too had an agenda. Maybe FNF would be interested in Pacific Union?
That Friday morning [31 days from closing] happened to be the memorial service for the son of a very special person in my life, who passed away in his 40s. I had to call this mentor of mine, who was like my second father, to share that I was missing the memorial service. He understood.
I had my Excel and PPTs ready. Drove to Sonoma, 30 minutes, to meet with Bill for 20 minutes. I visited with Bill for a little over 2 hours. No paper, no presentation. Just conversation. At the end, Bill reached for his business card, wrote two names on the back and handed it to me. "One of these executives will call you." Just as I was about to walk out. Bill said, "What's the purchase price again?" I answered. "And when do you need to close?" Thirty days."
Bill's office, that day, was in one of his wineries on the first floor. I walked to my car parked across the street. My phone rang before I got to my car. It was Mike Gravelle, EVP and General Counsel, FNF, one of the names on the back of Bill's business card. That was fast, crossed my mind.
After short introductions, Mike said, "I hear we might have an opportunity to buy Pacific Union?" my answer was "Yes." "What was the price?" Mike said. I shared the price. The only follow on question from Mike was "When is closing?" My response, "Thirty days."
Mike said something like, that's what I was thinking, just clarifying.
An hour later Brent Bickett, Executive Vice President ofCorporate Strategy, FNF, called – the other name on the back of the business card. Brent asked the exact same questions, in the exact same sequence.
Within a few days, I called Dave Lacey to say we are on track. Like a duck going across the pond, everything seemed calm up top, but it was a shit show under the water line. We were moving fast.
The speed of focus on the opportunity was fascinating to me. The pace in which FNF, a NYSE and Fortune 200 company, moved was remarkable. Gary Nelson, an FNF contract executive showed up in our Belvedere, CA office a few days later and spent several days with me on diligence. Questions were rifle focused on PUI books and records as well as Morgan Lane Marin's books and records.
We worked through more fiscal, practical and legal issues together with FNF and Brookfield than one can comprehend. Again, my learning curve is vertical!
We orchestrated an acquiring entity that fit FNF's desires and ours. Long story short, we were ready to close on July 1, 2009.
Six days before closing, a Brookfield executive called with a question, "Do you have your accounting systems all set-up? Would you like a copy of our chart of accounts?"
Hmmm, Morgan Lane Marin was operating with Quicken and a part-time bookkeeper on a "beeper."
My response was, "No, I presumed we would be using Pacific Union's systems."
Answer, "NO. These are GMAC systems and you cannot use them."
Six days before closing, I had a "bookkeeper on a beeper" and no accounting systems!
Another set-back.
This is Where We Are Now.
Thanks!
Mark
Mark A McLaughlin
Work From Home — Day 80 — Closing Bell
My Last Blog Post
4:00PM PST
Team –
I have decided to wrap-up my daily writings early. This will truly be the Closing Bell.
Considering the issues facing our country today, our story and journey seem so irrelevant. I had only four writings left, but our energies are and should be focused on our families and business. Any other available time or resources we each have should be focused on equality, healing, and our collective future – not the Where We Are Now blog, as equality is where we are now!
As Alexis Stewart shared with Patrick Barber today, "Healing is the Path Forward." Plenty of time downstream for storytelling.
Robert Reffkin, CEO, was on CNBC this morning sharing the Compass encouragement to focus best efforts on engaging 15 percent of our support resources to African American vendors – roofers, painters, stagers, photographers, etc. Same is likely true for other ethnicities. This is truly our country's calling today.
Payton Stiewe shared this chart with me today. Clearly the "V" is in place in housing. We have been predicting this and now it's here.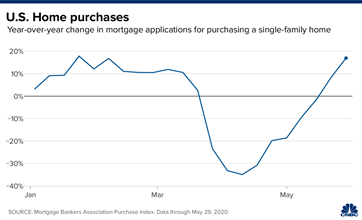 Currently 897 closings scheduled for June 2019. Cancellations are diminishing to pre-COVID levels. Businesses are opening. Please, please remain safe. This too is our social responsibility.
This COVID journey, not yet over, has been a remarkable experience for all of us. Our "V" has been a direct function of your passion, your tenacity and desire to persevere and prosper.
Channel the same energy to make the world a better place. As Ji Kim, Compass, FP&A, NYC, said in her writing to me yesterday, "This whole experience has opened my eyes more than I can ever imagine and I hope to be a better human being." Read it here – it's the 2nd post from June 7th. Thank you, Ji.
This is Where We are Now.
Thanks!
Mark
Mark A McLaughlin