Work From Home — Day 74
The Role of the Fed from John Burns
5:05AM PST
Team –
At the onset of SIP we immediately re-subscribed to the research from John Burns Real Estate Consulting. John Burns, CEO, became a friend in 2013 and a client in 2017.
John's team puts together a remarkable one-hour webcast for the last twelve weeks in a row. I generally watch these webcasts over the weekend vs. live on Thursday afternoons.
Last week's opening session was on "the role of the Fed." I found it fascinating and while I can't distribute the recording, yesterday John gave me permission to summarize the session and use some of the visuals. Here we go!
Our cyclical housing industry is familiar with deflation, but now we have experienced EVERY INDUSTRY in deflation at the same time.
John goes on to articulate a deflationary spiral. Exactly what the Fed is trying to prevent. At present, our economy seems to be at the bottom of this cycle below and the stimulus programs are broadly focused to hold off bankruptcies, etc. in lap one of this cycle and more broadly a second lap of this same cycle. As evidence of success, the equity markets seem to feel optimistic about 2H 2020.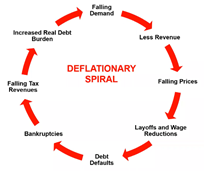 The Federal Reserve announced mid-March that it will buy unlimited amounts of Treasuries and agency mortgages, including multifamily, to grease the wheels of the credit markets. The Fed's balance sheet has ballooned to $7 trillion as of May 2020, up from $4 trillion in May 2019. $1.8 trillion of which is mortgage-backed securities – the housing market in all shapes and sizes.
The timely and very aggressive moves by the Fed, who is not likely done, have provided liquidity to the US economy. In doing so the Fed has bet that the recovery will be steady, and the stimulus will have prevented wide-spread solvency issues which may have been catastrophic.
As we predicted in March, our housing recovery in CA was V-shaped [update on the Path Forward at 2PM today]. Our new June new escrows are evidence of the same. The Fed continues to do everything it can to keep home prices high and construction of new units in process.
We talked very briefly yesterday afternoon about the dangers and preparedness of a SIP 2.0. A prepared society, with masks, testing facilities, and maybe a vaccine could provide for a softer landing than 1.0 in the event a 2.0 occurs. Stay safe!
We are all looking forward to John's 2021 Forecast.
John's advice, "Don't Fight The Fed!"
Thanks!
Mark
Mark A McLaughlin