Inspiration 2021
4:38AM PST
Team:
Mother Nature let off a little steam in the remaining days of 2020 — a volcano eruption in Hawaii, near Hilo, and a 3.6 earthquake in the San Francisco Bay Area — a gentle reminder that we are never really in charge.
Sunrise on New Year's Day hopefully brought you joy and inspiration. Your compassion, tenacity, and perseverance served clients in special ways throughout a suspenseful year.
Since June 2020, we have been closely monitoring the below four variables as key economics drivers which have shaped our forward-looking perspective.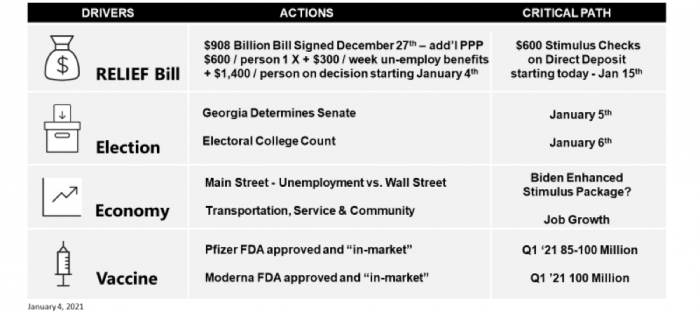 Each of these variables have a significant impact on our economy and the related housing markets, but collectively they are a force just short of Mother Nature. The resolution of all four variables will signal the return of certain liberties lost in 2020. The ability to gather, enjoy a sense of community, and travel freely are what I miss the most in life.
On a Goldman Sachs weekly conference call yesterday, discussion surrounded the recent stimulus bill that will likely cause a 5 percent Q over Q rise in GDP. The recovery was referred to as a "V" shaped recovery – "V" being the vaccine.
The inertia created in the "V" recovery will result in job stimulus, consistent GDP growth, and inflation below 2 percent through 2023. This is very good news for interest rates (mortgages) and purchasing power.
I am most proud of how our team embraced your clients with such compassion throughout 2020. When someone asked, "How are you?" it was meant with such sincerity; we checked-in with each other daily. We went the extra mile to meet our clients "where they are" – not a physical location, but a state of mind.
Use this compassion from 2020 to inspire your 2021. The "V" recovery is clearly within reach. Our ability to gather, to socialize, and to travel will return to our lives and we will hopefully never lose the renewed sense of compassion we found in 2020.
This provides me with amazing inspiration for 2021.
This is "Where We Are Now".
Thanks!
Mark
Mark A McLaughlin