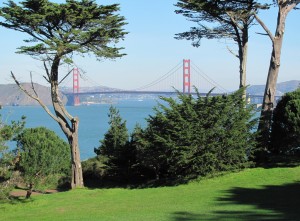 San Francisco's tony Sea Cliff neighborhood boasts some of the city's most sweeping views and its grandest homes.
"It's one of the few areas in San Francisco where you have very large homes that are, for the most part, completely detached from one another," said Patrick Barber, president of Pacific Union International's San Francisco region.
While architecture in the neighborhood varies, many Sea Cliff homes for sale are Mediterranean in style. They range in price from about $1.8 million to more than $20 million.
In October the average sale price for a single-family home was $5.1 million, according to MLS data.
Sea Cliff residents enjoy easy access to China and Baker beaches, the spectacular Lands End trail, and Lincoln Park with its golf course and Legion of Honor museum. Sea Cliff homes, particularly those on El Camino Del Mar, offer stunning views of the Bay and the San Francisco skyline seen through the Golden Gate Bridge.
Because neighborhood streets don't lie in a grid pattern, there is very little cut-through traffic, making the area exceptionally peaceful and quiet.
A number of celebrities have called the Sea Cliff home over the years including actress Sharon Stone, comedian Robin Williams, and Metallica guitarist Kirk Hammett. Stone's former home at One 25th Ave. features a private entrance to Baker Beach.
The neighborhood is entirely residential, but a number of eateries including El Mansour Moroccan restaurant, Oyaji Japanese restaurant, and Tee Off Bar and Grill line Clement Street near Lincoln Park. The Cliff House and Louis' are also nearby.
Katherine Delmar Burke School, a K-8 private girls' school, is located at 7070 California St. and has long attracted families with girls to the neighborhood.
"Primarily, you see buyers in the Sea Cliff who are looking for larger homes," Barber said. "They typically have children and want space."
(Photo of Lincoln Park by Rocor, via Flickr.)