The median sales price for a U.S. single-family home was $269,000 in the second quarter, an all-time high.
The San Jose metropolitan area was America's fastest-appreciating housing market, with the $1.41 million median sales price up by 18.7 percent from the second quarter of 2017.
Though millennials should be helping to drive sales activity, less than half of them believe that homeownership is a good investment.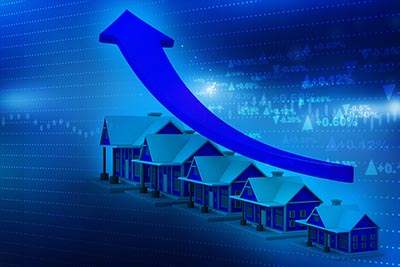 Home prices increased in nine of 10 U.S. metropolitan areas in the most recently completed quarter, with the Bay Area laying claim to the nation's only two major $1 million-plus housing markets.
The latest quarterly report from the National Association of Realtors says that the median sales price for an existing U.S. single-family home was $269,000 as of the second quarter, up by 5.3 percent year over year and a new peak. Prices rose in 161 of 178 measured metro areas, with 24 (13 percent) posting double-digit increase.
The Bay Area's two largest cities were among America's fastest-appreciating housing markets in the second quarter, with prices in San Jose up by 18.7 percent, the most in the nation. Home prices in San Francisco rose by 12.6 percent from the second quarter of 2017.
San Jose and San Francisco remain America's most expensive housing markets, with respective median sales prices of $1.41 million and $1.07 million. Three other California metro areas rank among the country's 10 priciest places to buy a home: Anaheim ($830,000), San Diego ($645,000), and Los Angeles ($557,200).
Although U.S. inventory inched up by 0.5 percent from the second quarter of 2017, it was not enough to meet demand, with bidding wars pushing some prospective buyers out of the market. Home sales declined by 2.4 percent year over year, a trend that NAR Chief Economist Lawrence Yun sees continuing unless more homes hit the market and one that is being exacerbated by higher mortgage rates.
"Solid economic growth, a healthy labor market and the large millennial population should be driving home sales much higher," he said. "As long as economic conditions maintain current levels, there's still a chance for sales to break out this year. However, with mortgage rates trending higher, it will only happen if supply levels improve enough to cool the speedy price growth in a majority of the country."
Though millennials comprise the largest group of prospective U.S. homebuyers, new survey results from ValueInsured show that they are increasingly pessimistic about the housing market. Less than half of millennials believe that buying a home is a good investment, an all-time low. Roughly six in 10 millennials believe that purchasing a home is better than renting, down from 83 percent two years ago.
(Image: iStock/bluebay2014)