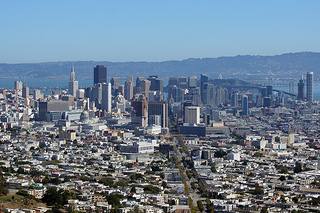 San Francisco home shoppers who place incredible views high on their wish lists will find that the vistas don't get much better than they do in the mellow Twin Peaks neighborhood.
Located near the center of San Francisco, the neighborhood surrounds its two namesake peaks, which sit at an elevation of 922 feet. Although the Bay Area has no shortage of places to take in incredible views, many San Franciscans believe that Twin Peaks is the ultimate, with panoramic vistas of the city skyline, the East Bay, the Bay Bridge, and the Golden Gate Bridge.
Twin Peaks is also home to a highly visible San Francisco icon: Sutro Tower. Built in the early 1970s, the 977-foot, red-and-white antenna transmits many of the Bay Area's TV and radio stations and can be seen from miles away in most directions.
Though several bus lines run in the general vicinity of Twin Peaks, Muni's 37 Corbett offers the most efficient route to downtown areas, though it requires riders to transfer to a light-rail line at either the Castro Street or Church Street stations. Those who commute by car can access Highway 101 less than three miles north via Market Street, which skirts the neighborhood's eastern border.
Twin Peaks is primarily residential, but as is the case in any San Francisco neighborhood, restaurants and shopping are never far. A small business district at the neighborhood's southwestern border contains a Mollie Stone's Markets location, as well as two smaller grocery stores and a pharmacy. Restaurants in the strip include Tower Burger, Pop's Sandwich Shop, and Taqueria Miraloma.
Due to its high elevation and steep, hilly streets, Twin Peaks gets relatively little foot traffic compared with other San Francisco neighborhoods, allowing it to retain an atmosphere of seclusion and peacefulness not always found in a major city. Homes and condominiums in the neighborhood come in a variety of architectural styles, ranging from contemporary to Edwardian.
Because of its relatively small size and high desirability, Twin Peaks has seen just a handful of properties change hands over the past year. Between September 2013 and September 2014 there were seven single-family homes and 22 condominiums sold in the neighborhood, according to MLS data. The average median sales price over the past year was $1.67 million for single-family homes and $877,000 for condominiums.
(Photo/Flickr: Allie_Caulfield)