San Francisco ranks as the hardest-working city in America in 2018, according to a just-released report.
Fremont and Oakland also rank among the top 10 hardest-working cities in the country.
Two separate reports released last fall found that Bay Area workers are America's happiest and enjoy the best work-life balances.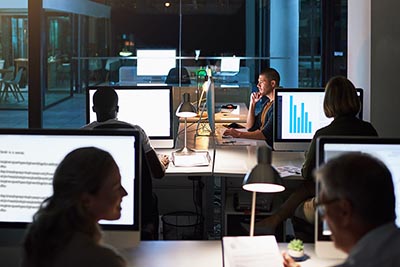 Living in the Bay Area — and especially buying a home — is an expensive proposition, so it makes sense that residents here work harder at their jobs than employees anywhere else in the country.
A new report from WalletHub ranks 116 American cities on employees' dedication to their jobs on a 100-point scale based on both direct and indirect factors. Of the nine criteria used to gauge work ethic, the number of hours worked per week is by far the heaviest weighted, accounting for nearly half of a city's overall score. Other direct criteria include employment rate and worker enthusiasm, while commute and leisure times count among the indirect criteria.
San Francisco tops the list of America's hardest-working cities, with a total score of 78.52. Alameda County's Fremont follows closely in the No. 2 position, notching a 78.28, while Oakland ranks No. 6 with a 70.56. San Jose (No. 11), Los Angeles (No. 12), and Long Beach (No. 16) are the other California job markets to count among the country's 20 hardest working in 2018.
Bay Area cities rank high for criteria directly related to work: Fremont (No. 1), San Francisco (No. 2), and Oakland (No. 4). Though the study doesn't specify, the Bay Area almost assuredly earns big points for its thriving job market. According to the latest data from the California Employment Development Department, the unemployment rates in San Francisco and Alameda counties were a respective 2.4 percent and 3.0 percent in December.
Local job markets did not fare as well for criteria not directly related do work, with no Bay Area city placing above No. 31. The Bay Area's worsening traffic likely plays a role in that, with the average commute time in Silicon Valley rising by 19 percent from 2010 to 2016 according to a recent report from The Mercury News. The average Silicon Valley commuter now spends more than 70 minutes each day getting to and from work.
Bay Area residents may indeed be America's hardest working, but they are also the nation's most satisfied, a Glassdoor report found last fall. A separate study the company published a month later concluded that companies based in San Francisco and San Jose offer employees the best work-life balance in the U.S.
(Photo: iStock/Cecilie_Arcurs)