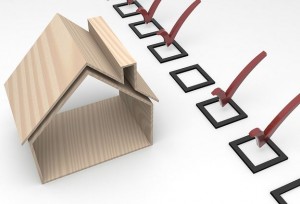 Most Americans are happy with their living arrangements, with 71 percent rating their homes highly – from eight to 10 on a 10-point scale – and 29 percent giving their homes the "best" rating of 10, according to a broad survey of U.S. housing conditions.
Residents of new construction tend to rate their homes even more highly, with 84 percent giving them a rating of between eight and 10, and 46 percent rating them as a 10.
The housing satisfaction ratings are included in the latest American Housing Survey, conducted in 2011 by the U.S. Census Bureau and recently released online on the Census Bureau's American FactFinder data site. The biennial survey tracks conditions in 190,000 housing units nationwide.
The survey covers a range of topics, including plumbing and source of water and sewage disposal; housing problems; residents' satisfaction with home and neighborhood; value, purchase price, and type of mortgage; and safety features and potential health hazards.
Other highlights on the nation's 115 million occupied homes:
Nearly 20 percent of recent movers identified "convenience to job" as the most important factor in their choice of neighborhood.
When asked how they found their current units, the most common methods for recent movers were: talking with a real estate agent (20 percent), Realtor.com (17 percent), and word of mouth (16 percent). For renters, the most common ways included word of mouth (34 percent), a sign on the outside of the building (11 percent), and Craigslist (11 percent).
On average, households shell out $927 per month — 24 percent of their household income — for housing. The cost is higher for residents of new construction, who pay a median of $1,340 per month. Renters generally pay less in housing costs ($845 versus $1,008 for owners, per month), but they pay a higher percentage of their household income (31 percent, compared with 20 percent for owners).
The median year that homes were built was 1974, meaning half were constructed before 1974 and half after. Owner-occupied units tended to be slightly newer (1976 compared with 1972 for renter-occupied).
The median size of single-family detached homes is 1,700 square feet, with owner-occupied units being larger (1,800 square feet) than renter-occupied ones (1,300 square feet). Newly constructed units are also usually larger, with a median size of 2,200 square feet.
Most homes have three or more bedrooms (64 percent). New homes (those built in the last four years) generally have more bedrooms, with 74 percent of them having three or more.
About half the homes (52 percent) have two or more bathrooms, and more than eight in 10 units boast a washing machine (83 percent) and clothes dryer (81 percent).
Mold was reported in 4 percent of housing units. Respondents most commonly reported seeing mold in their bathrooms (45 percent), bedrooms (22 percent), and basements (20 percent).
The cost of an average kitchen remodel was $5,000. Adding or renovating a kitchen, however, was much more expensive at $27,353. The average bathroom cost $2,432 to remodel, with renovations or additions running an average of $3,422.
(Illustration courtesy of StockMonkeys.com, via Flickr.)