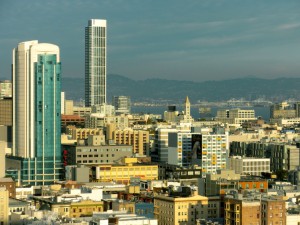 A former industrial area, San Francisco's South of Market area, or SoMa, offers an interesting mix of swanky restaurants, popular nightclubs, startup culture, seedy residential hotels, and multimillion-dollar condos.
"Over the past decade or so, there's been a huge influx of new construction and, of course, high-tech companies," said Patrick Barber, president of Pacific Union International's San Francisco region. "That has really changed the entire dynamic in SoMa from an industrial area to an incredibly vibrant, young, hip neighborhood, which houses a lot of new-construction condominiums."
Despite low inventory levels, 2012 was a busy year for SoMa with 218 condominiums, lofts, and tenancies-in-common selling in the 12-month period, according to MLS data. In December the median sale price for such units increased 21 percent to $615,000, up from $509,000 a year earlier.
SoMa condominiums for sale in sought-after buildings can go for well over $1 million.
Well-known SoMa condominium and loft buildings include the Heublein building at 601 Fourth St., the Jackson Brewery at 1489 Folsom St., the Lighthouse Lofts, and the SoMa Grand.
Once nicknamed "South of the Slot" for its location on the wrong side of the cable car tracks, SoMa is now a hotbed of nightlife and a dining mecca. Numerous clubs line Folsom and surrounding streets, and each September the neighborhood hosts the Folsom Street Fair, a wildly popular leather and fetish event.
Favorite SoMa eateries include Fringale French restaurant, Coco500 restaurant and bar, Basil Thai restaurant, and AQ Restaurant & Bar. The neighborhood even boasts a combination cafe and laundromat: BrainWash.
Home to many startups and multimedia companies, SoMa boasts a definite arty vibe. Some of the city's best museums, such as the San Francisco Museum of Modern Art and Yerba Buena Center for the Arts, are nearby in the Yerba Buena neighborhood.
"SoMa has great proximity to downtown, great proximity to the new ballpark, and great proximity to all the hip, hot restaurants," Barber said. "It's just a totally vibrant area."
(Photo by Jennifer Morrow, via Flickr.)