Three Silicon Valley public-school districts again rank as California's best this year.
Henry M. Gunn High School in Palo Alto ranks as the top high school in the state.
Stanford University tops the list of America's best colleges.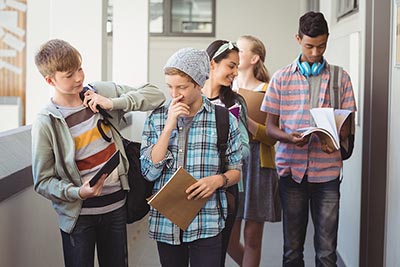 While high-paying and plentiful tech jobs are fueling buyer demand for Silicon Valley homes, the fact that the region's public schools consistently rank among the best in the state is also a big draw for families.
That's according to Niche.com's annual rankings of the best public-school districts in California. The company gauges school quality using 10 criteria — including academics, teachers, extracurricular activities, and sports — then assigns each school district a grade. Niche.com also factors in parent and student reviews on its website when ranking school districts.
As in last year's rankings, three Silicon Valley school districts are at the head of the class, all receiving overall A-plus grades. Palo Alto Unified School District ranks as California's best, scoring an A or an A-plus on eight of the 10 criteria. No. 2 Los Gatos-Saratoga Joint Union High school also received eight A grades, while No. 3 Mountain View-Los Altos Union High School District took home seven.
Nine Bay Area school districts landed in the top 20, all earning A-plus grades. Lafayette's Acalanes Union High School District ranks No. 7, followed by Pleasanton Unified School District (No. 9), Albany City Unified School District (No. 16), Tamalpais Union High School District in Larkspur (No. 17), Fremont Union High School District in Sunnyvale (No. 19), and San Ramon Valley Unified School District in Danville (No. 20).
Niche.com again ranks Palo Alto's Henry M. Gunn High School as the state's top public high school in 2018. Bay Area districts are responsible for half of California's top 20 high schools: Saratoga High School (No. 4), Palo Alto High School (No. 5), Orinda's Miramonte High School (No. 6), Los Altos High School (No. 9), Mountain View High School (No. 11), Larkspur's Redwood High School (No. 13), Pleasanton's Amador Valley High School (No. 14), San Francisco's Lowell High School (No. 18), and Los Gatos High School (No. 19).
And after receiving a top-quality K-12 education, local students won't have to look far to find a superb college. Niche.com ranks Stanford University as the No. 1 college in America this year, though it is worth noting that the school has one of the lowest acceptance rates in the country, admitting just 5 percent of applicants.
(Photo: iStock/Wavebreakmedia)