"History has shown us that courage can be contagious, and hope can take on a life of its own." – Michelle Obama
Black History Month is a time to recognize, reflect, and celebrate. It can also be an impactful time to look for ways to effect social change on an ongoing basis. A simple way to make a difference is to help create jobs and empower communities of color by directing your time and spending power toward Black-owned businesses.
In 2020, Compass CEO Robert Reffkin recognized the power of the collective pocketbook when he announced the 15% Pledge commitment to Compass agents. Since then, the national Diversity, Equity and Inclusion team has partnered with regional Inclusion Committees to champion this pledge.
The pledge reads: "We're inviting Compass agents — and all agents across the industry — to join the 15% Pledge, which reads: Moving forward, I will work to allocate 15% of my real estate vendor spend to Black professionals — from photographers to videographers to attorneys to contractors to stagers to all the small businesses I source and refer to my clients."
In recognition of our CEO's vision, we are pleased to share the stories of six Black-owned businesses in California. Whether you simply follow these businesses online or choose to shop, support or volunteer, we hope you will continue to look for ways to inspire hope and spread awareness.

Marcus Books – The Nation's Oldest Black-Owned Bookstore
Originated in San Francisco, now based in Oakland, CA
Founded in 1960 by Drs. Julian and Raye Richardson, Marcus Books is the oldest independent Black-owned bookstore in the country. With a shared love of literature, the couple fiercely advocated for Black history, exchange, and knowledge of self.
"At Marcus Books "Black" is not a subject, a single month, or a niche; it is the universe. "Black" is not just history; it is the present and the future." marcusbooks.com
About: Marcus Books is an institution where those who have written books, produced visual work, and more can see themselves on a shelf, wall, or counter surrounded by other Black makers.
60 years since its opening, the bookstore has become a literary and cultural hallmark that has hosted iconic authors, including Toni Morrison, Rosa Parks, Muhammad Ali, Maya Angelou, Walter Mosley, Angela Davis, Terry McMillan, Chaka Khan, Michael Eric Dyson, Iyanla Vanzant, Sister Souljah, Nikki Giovanni, Kareem Abdul-Jabbar, Patti LaBelle and so many more of our treasured voices. The book clubs, intimate poetry readings, and countless customer conversations that unfold at Marcus are just as important.
Source: marcusbooks.com
Today, the family of Drs. Julian and Raye Richardson run Marcus Books.
If you live in the Bay Area, stop by 3900 Martin L King Jr Way in Oakland, CA, to pick up a book and pursue an iconic part of Black history. Buy a book online by clicking to visit marcusbooks.com.
Nzilani Glass Conservation
Based in Oakland, CA
Nzilani Glass Conservation is an award-winning firm and one of the few companies in the United States qualified to create new or preserve historical glassworks. The company specializes in architectural art glass, providing safe, museum-quality services for private residences, historic buildings, and museums.
The company's founder, Ariana Makau, is the second person in the world – and the first woman – to receive a Master's Degree in Stained Glass Conservation from the Royal College of Art in London. Equally comfortable on a job site, at a board meeting, or in a museum, Makau has over 25 years of experience with art and architectural preservation. She is a Board Member and Health and Safety Chair of the Stained Glass Association of America and is a Fellow of AIC. Before Nzilani, she worked at the J. Paul Getty Museum in Los Angeles, London's V&A Museum, and the New York Metropolitan Museum of Art.
Source: nzilani.com
In a 2021 interview with oaklandside.org, Makau shared her mission of giving back to her community, being a Black woman business owner, and cultivating the love of historic preservation in young kids. Click here to read the full article via oaklandside.org.
"If you reach them early, kids know that it's okay for a Black woman to have her own business," said Makau. "I hope my legacy is to leave people appreciating stained glass—to not have to replace something broken, but to preserve it." Ariana Makau
Would you like to learn more about Ariana Makau and the fantastic stained glass work of Nzilani? Click here to visit nzilani.com.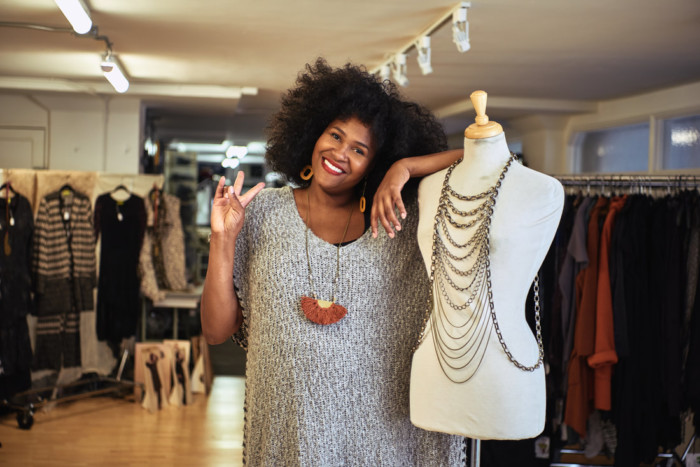 Candid Art
Based in Oakland, CA
Established in 2011 by Candice Cox, Candid Art is an artisanal jewelry company, home décor, and kids lifestyle brand. The funky urban-chic designs have graced the pages of numerous publications such as Vogue, Essence Magazine, Forbes, Mother Magazine, Cosmopolitan, GQ, San Francisco Magazine, Bobcut Magazine, and Rolling Stones magazine and have been worn by celebrities.
The founder, Candice Cox, is a self-taught jewelry designer that got her start by watching YouTube videos. She grew up in Oakland, California, where her parents nurtured her creative talents early on while simultaneously instilling the importance of hard work and having passion behind whatever you do. Candice's creative talents and business savvy were further honed at Howard University.
Source: candidartaccessories.com
In an interview with seamwork.com, Cox shared insight regarding her imagery and how it shaped both Candid Art and Candid Art Kids. Click here to read the full article via seamwork.com.
"The imagery that I use is reflective of the modern African Diasporic culture and Cosmic Geometry, and it is important that my designs reflect me and my culture. I also want young Black girls to see themselves in my designs and let them know it's ok to be bold, colorful and seen." Candice Cox
Feel like supporting Candid Art? Treat yourself or someone you love to a piece of artisanal jewelry, or spice up your Instagram feed by following them at candid–art. Click here to visit the website at candidartaccessories.com.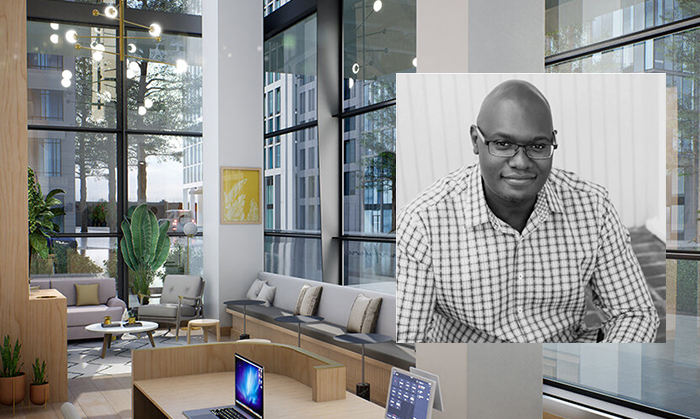 SPACIALISTS, Inc.
Based in El Segundo, CA
Founded in 2012 by Philip Oloo, SPACIALISTS is a tech-forward design and build firm specializing in architectural visualization. By focusing on realistic 3D rendering and virtual reality, the company provides innovative ways to explore and interact with architectural designs via desktop, smartphone, or VR headsets.
In an interview with virtualrealitymarketing.com, Oloo shared how growing up in Kenya influenced his career. Read the full interview by visiting virtualrealitymarketing.com.
"Growing up in Kenya, I watched as the country and my own family dealt with a lack of infrastructure. We sometimes lived without electricity and often bathed on a rock in the yard using a bucket full of rainwater. It was out of this scarcity of basic facility that I developed a love for architecture, but my passion for VR didn't come until much later, of course." Philip Oloo
Today, SPACIALISTS works closely with real estate developers, homeowners, architects, builders, industrial and interior designers to transform ideas into reality.
Want to learn more about this cutting-edge company? Click here to visit spacialists.com.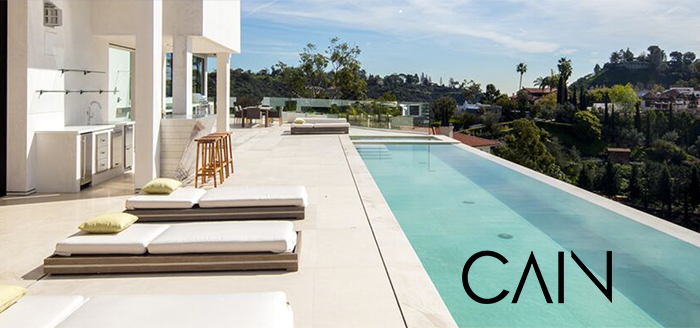 Cain Interiors and Construction (CIC)
Based in Los Angeles, California
Founded in 2000, Cain Interiors and Construction provides architectural and interior design, contractor, and consulting services. As a design/build firm, Cain takes its clients from concept to turn-key and everything in between. Site conditions, budgets, city regulations, and divergent visions are embraced at CIC as welcomed contingencies to develop impactful environments.
Source: caininteriors.com
Cain Interiors and Construction is the brainchild of Cain Calderón-Leon, an award-winning LA interior designer, luxury developer, and entrepreneur. After studying pre-med at U.C.Irvine, Calderón-Leon shifted his focus to remodeling. His creativity and design prowess have earned him a place in luxury design. Cain Calderón-Leon's designs have been featured in the LA Times, Mansion Global, Curbed, and HGTV.
In a 2021 interview with Ambassador magazine, Cain Calderón-Leon shared what he felt was the future for Cain Interiors & Construction. Click here to read the full interview.
"We are growing and doing more spec homes. Changing the design of California modernism. Trying to push the boundaries of what home life can be as opposed to what we've been told it is. So I'm bringing that to more Black communities. I very much want us to win. So I changed my business model just a slight bit. And now I'm going to areas that have been traditionally undervalued. Just because of the color of the skin of the people who live there. I'm working towards bringing value to those areas. That's been the switch for the last couple of years. That's what we are doing. The idea behind that is we are lacking in legacy wealth. Passing down wealth to our kids. I want to create more value in the homes in my area or the areas I'm choosing, particularly Black areas, and create more wealth." Cain Calderón-Leon
Spread the word about this skilled designer and his compelling company online! Click here to visit caininteriors.com to learn more.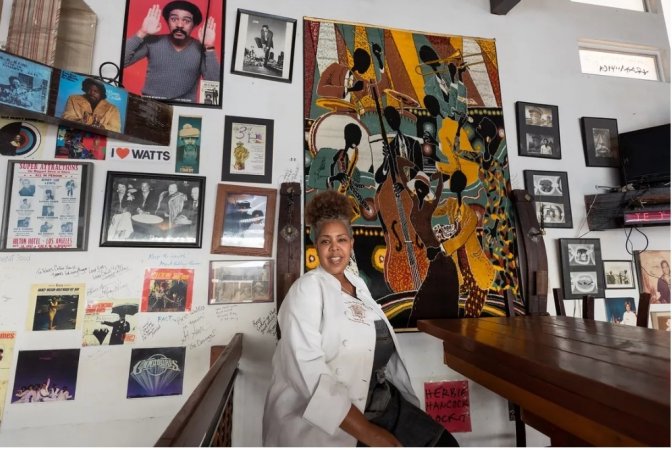 Watts Coffee House
Based in Los Angeles, California
With 20+ years of experience cooking, Watts Coffee House knows the importance of preparing a meal with the best ingredients available. Aside from the delicious made-from-scratch menu and classic coffee, Watts Coffee House comes with a side of LA history. Located in a community health center, Watts Coffee House resides across the street from where the old Watt's Happening used to live. While the two businesses operated 20 years apart and under different ownership, they both sought to provide a space for community building.
Today, Watts Coffee House is owned by Chef Desiree Edwards.
In a 2020 interview with Eater Los Angeles, Desiree Edwards spoke about the memorabilia that line the dining room surfaces at Watts Coffee House. Click here to read the full story via la.eater.com.
"We have posters and photos of artists that grew up in the neighborhood that have gone on to prominence because Watts has a lot of well-known talent that grew up here," Edwards said. "I have history displayed throughout… Huey Newton, Martin Luther King, Redd Foxx, you name it." Desiree Edwards
If you are in LA, stop by Watts Coffee House. Click here to visit wattscoffeehouse.com for more information.
Here is a list of other fantastic companies in California you should check out!
Northern California:
Southern California:
We are proud to celebrate these Black-owned businesses. If you have suggestions on other inspirational people or businesses, please share their names in the comments below.