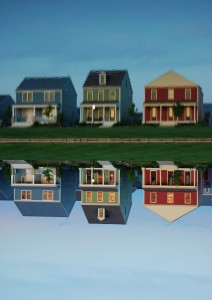 Did home flipping make a big comeback in the Bay Area last year? A recent report suggests that's the case.
The San Francisco and Santa Rosa metropolitan areas landed on a list of the top 25 markets in which to flip a property.
RealtyTrac, which compiled the report with 2012 data on homes that sold twice within six months, ranked metropolitan areas with at least 500 such transactions by the percentage of gross profit "flippers" raked in. Flippers buy homes, fix them up, and aim to resell them quickly at a profit.
A whopping 11 California metro areas made the RealtyTrac list, including San Jose-Sunnyvale-Santa Clara, with 1,166 flips and 24 percent gross profit margins; San Francisco-Oakland-Fremont, which saw 2,815 flips and 23 percent gross profit; and Santa Rosa-Petaluma, with 527 flipped single-family homes and 19 percent margins.
Napa also recorded hefty gross profits of 24 percent on flipped properties but didn't earn a spot among the top 25 metro areas. That's because its total number of transactions came to just 125.
In a recent Press Democrat article, Sonoma County flippers agreed that 2012 had been a particularly good year but noted that profits are much lower in the North Bay than the RealtyTrac numbers suggest.
"The houses in Sonoma County take a lot more to fix up," Chris Peterson, a managing director of Santa Rosa's Praxis Capital, told the newspaper. "The net margins are very small in Sonoma County."
And opportunities for home flipping may already be dissipating – at least at the lower end of the market, said Rick Laws, branch executive of Pacific Union's Sonoma County offices.
"There has been a tremendous amount of flipping," Laws said. "But a lot of that is going to have to be water under the bridge, primarily because what drove it was distressed property. In April only 11 percent of the new listings that came onto the market (in Sonoma County) were distressed properties, meaning short sales or bank-owned properties."
Couple that with rising prices, low inventory, and a competitive market – and it's no wonder that opportunities in the under-$500,000 range are few and far between these days, Laws said.
"The margins that were here are not here now," he said, adding, "Some of the more aggressive or insightful (flippers) are moving up-market, and they're finding good buys and they're restoring the luster to some properties that may have been a little beaten up and neglected. I think there's a little more longevity north of $500,000."
Patrick Barber, president of our San Francisco region, said he wasn't surprised by the city's high ranking on the RealtyTrac list.
"When you spend a little bit of money, on average you get a lot back," Barber said of flipping in San Francisco. "There're quite a few developers who do one, two, three projects every year here."
Barber pointed to a number of high-end homes in the city's Pacific Heights and Presidio Heights neighborhoods that sold last year — and then went for millions more in the past several months after undergoing renovations.
"Until the market starts to decline, you'll see a steady flow of it," he said. "As long as there's money to be made, it's good for a developer."
(Photo by Luckygirllefty, via Flickr.)