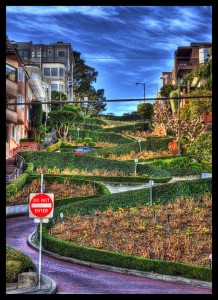 A classic San Francisco neighborhood, Russian Hill offers stunning views, vibrant businesses, and plenty of local history.
"A lot of young people start out in the Marina and Russian Hill because there are so many apartments to rent, and they naturally fall in love with the area and stay there once they decide to buy and move up," said Patrick Barber, president of Pacific Union International's San Francisco region.
Home to the one-block stretch of Lombard Street dubbed "the crookedest street in the world," Russian Hill attracts tourists, residents, and foodies to its many restaurants and shops on Polk and Hyde streets.
Local favorites include brunch and burger joint Polkers; longtime neighborhood staple Swenson's ice cream shop; Cole Hardware and Brownie's Hardware stores; and the popular Greens Sport Bar. A small French section has sprung up near Polk and Green with La Folie restaurant, La Boulange Bakery, and the nearby La Tulipe Noire antiques shop.
Named after a Russian cemetery discovered in the 1800s, the neighborhood is one of San Francisco's original "seven hills." Russian Hill contains some of the city's steepest streets, with stairs built into many sidewalks for better walkability.
Alice Marble Park at Greenwich and Larkin streets and Ina Coolbrith Park at Taylor and Vallejo are great places to take in spectacular views of the city and Bay. Macondray Lane, a charming foot lane, figured prominently in Armistead Maupin's "Tales of the City" under the pseudonym Barbary Lane.
The San Francisco Art Institute, designed by the same architects behind San Francisco City Hall, offers visitors fabulous vistas, a beautiful Diego Rivera mural, and community education courses.
Russian Hill is well-connected to downtown San Francisco by public transit, with Muni buses and cable cars carrying locals and tourists up and down its hilly streets. Some fit residents even walk to work in the Financial District.
With its large apartment and condominium buildings and lovely single-family homes, the neighborhood boasts a mix of housing stock, with most Russian Hill homes for sale dating back to the 1910s. Portions of Greenwich and Lombard streets offer secluded urban oases, including a Willis Polk-designed home at 950 Lombard that recently sold for $4.5 million.
In September the median price of Russian Hill condominiums increased 20 percent to $875,000, up from $729,000 a year earlier, according to MLS data. Meanwhile, the number of condos for sale plunged 46 percent, while those under contract increased 100 percent over the year-earlier period.
"That bodes well for the condominium owners on the hill," Barber said.
(Photo of Lombard Street by Vgm8383, via Flickr.)