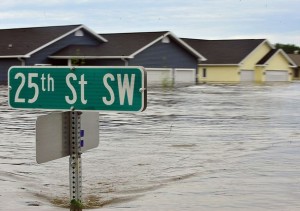 Rising prices helped lift 1.7 million homes above water in 2012, including 200,000 in the fourth quarter.
A report this week from the research firm CoreLogic found that underwater homes — those with mortgages greater than their appraised value, also known as negative equity — fell steadily last year. By the fourth quarter, 21.5 percent of homes with a mortgage were still underwater, down from 25.2 percent a year earlier and 25.9 percent in the first quarter of 2010 — the high-water mark for underwater homes.
Here's more good news: Housing prices rose steadily throughout 2012, and if that trend continues, as is widely expected, even more homes will regain equity. CoreLogic said a 5 percent rise in home prices would lift another 1.8 million properties above water.
"The scourge of negative equity continues to recede across the country," Anand Nallathambi, president and CEO of CoreLogic, said in a statement.
"There is certainly more to do, but with fewer borrowers underwater the fundamentals underpinning the housing market will continue to strengthen," he said. "The trend toward more homeowners moving back into positive equity territory should continue in 2013."
The CoreLogic research confirms an earlier report from Zillow that the rebounding housing market is helping homeowners regain equity.
That report noted that California also recorded fewer underwater homes by the end of 2012 but remained above the national average with 25.2 percent of homeowners owing more than their homes are worth.
Nevada led the nation with more than half of all mortgaged homes underwater — 52.4 percent.
(Photo courtesy of Dvidshub, via Flickr.)