Here's a look at some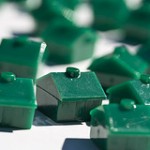 new stories this week of interest to homebuyers, home sellers, and the home-curious:
BUILDERS BULLISH
A report from the National Association of Home Builders says its members are increasingly confident in the market for newly built, single-family homes. The association's Housing Market Index rose two points in August after rising six points in July, putting the index at its highest level since February 2007.
Why so confident? "From the builder's perspective, current sales conditions, sales prospects for the next six months, and traffic of prospective buyers are all better than they have been in more than five years," according to NAHB Chairman Barry Rutenberg.
STRONG NUMBERS
Confidence among homebuilders probably climbed even higher after the U.S. Census Bureau and the Department of Housing and Urban Development announced that building permits in July were up 29.5 percent from one year ago, and housing starts were up 21.5 percent. Housing completions, the final step in the process, were up 5.4 percent.
MORTGAGE RATES RISE, STILL LOW
Interest rates on home loans inched higher for the third consecutive week, although the cost of borrowing to buy a home still remains near the record low. Freddie Mac said 30-year fixed mortgages averaged 3.62 percent this week, up from 3.59 percent last week. Last year at this time the average rate for a 30-yar mortgage was 4.15 percent.
Fifteen-year fixed-rate mortgages averaged 2.88 percent this week, up from 2.84 percent last week, while five-year adjustable-rate mortgages averaged 2.76 percent, down from 2.77 percent last week.
HOUSING AFFORDABILITY SLIPS
With home prices starting to rise, home affordability is starting to fall. So says the latest Housing Opportunity Index from the National Association of Home Builders (see above) and Wells Fargo Bank. The latest report says 73.8 percent of all homes sold in the second quarter of 2012 were affordable to families earning the national median income of $65,000. This is down from a record high 77.5 percent in the first quarter.
SHADOWY CHARACTERS
Wall Street Journal reporter Nick Timiraos wrote a three-part series this week on the housing market's so-called "shadow inventory." It's posted on the newspaper's Developments blog and casts a skeptical eye on analysts who worry that a glut of potential foreclosures could stop the housing recovery in its tracks.
Timiraos gives several reasons why this shadow inventory may be a paper tiger: "It's concentrated in a handful of markets. … It is being offset by improved demand, particularly from investors. And the housing vacancy rate is low, a product of very little new home construction over the past few years." Click through for an interesting read: Part One, Part Two, and Part Three.
OH, THE INDIGNITY
Maybe it's just our local vanity, but we were shocked, frankly, to read that San Francisco placed only 11th on a list of the most popular cities searched by global (non-U.S.) buyers at the Realtor.com website.
The July search results put San Francisco just behind 10th-place finisher (and apparent stealth hot-spot) Kissimmee, Fla.. Moving up the list from there, the "top" destinations were San Diego, Houston, Fort Lauderdale, New York, Orlando, Miami, Los Angeles, Las Vegas, and, at No. 1, Chicago.
Other curious and spurious results: San Francisco placed no higher than fifth in Realtor.com searches by people of any one country, and that was from both China and Singapore, where Los Angeles was reported to be the No. 1 choice.