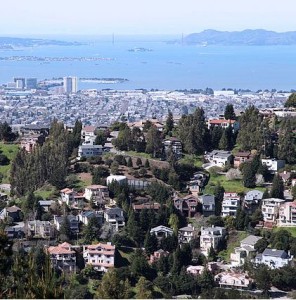 Here's a look at news this week of interest to homebuyers, home sellers, and the home-curious:
BIG TURNAROUND IN OAKLAND HOME PRICES
The Oakland metro area ranked third in the United States in December for a strong turnaround in its housing market, according to research by Trulia Inc.
Asking prices for homes in Oakland had dropped 8.4 percent, year over year, in December 2011 but roared back in December 2012 to post a 12.7 percent gain — a 21.1-percent turnaround over two years, Trulia reported Thursday.
In the San Francisco metro area, December asking prices rose 11.9 percent from a year earlier. The national average was up 5.1 percent.
Other bits from Trulia's monthly data dump: Rents in Oakland increased 12.6 percent in Oakland and 5.2 percent in San Francisco. The national average rose 5.2 percent.
---
FEWER DISTRESSED SALES, MORE EQUITY SALES
Pending home sales in California slipped 1 percent in November from a year earlier as sales of distressed properties — foreclosures, bank-owned properties, and short sales —  dropped precipitously, according to a report from the California Association of Realtors.
Pending sales of distressed properties were down 15 percent in November, year over year, while equity sales rose by the same percentage.
Pending home sales are forward-looking indicators of future home sales activity, providing information on the future direction of the market.
---
HARNEY: A WIN FOR HOUSING — FOR NOW
Veteran real estate columnist Ken Harney says homebuyers, sellers, builders, and real estate professionals came out winners in the "fiscal cliff" budget bill that cleared Congress on Tuesday.
Homeowners in the highest income brackets, however, will be writing bigger checks to Uncle Sam, and Harney warns that budget talks this summer could bring several "settled" provisions back to the table.
(Oakland Hills photo is courtesy of Avrene, via Flickr.)