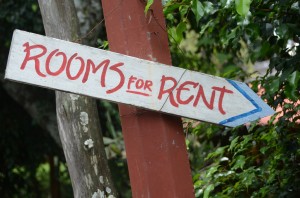 Here's a look at recent news of interest to homebuyers, home sellers, and the home-curious:
WHAT $2,500 RENT WILL GET YOU IN SAN FRANCISCO
We all know rental prices are sky-high throughout much of the Bay Area and particularly in San Francisco. Nonetheless, Curbed San Francisco's examples of which rental units $2,500 a month will land you in the City by the Bay are still somewhat sobering.
Diminutive one-bedrooms with no amenities are mostly par for the course, but if you're willing to venture farther afield to Visitacion Valley, a single-family home can be yours. Sure, the property's not fancy by any means. But on the bright side, it's got a spacious garage, paved backyard, and an eat-in kitchen.
---
THESE BILLIONAIRES CAN AFFORD YOUR WHOLE CITY
Here's at least one person who won't have trouble making San Francisco rent: Bill Gates. In fact, the Microsoft co-founder could literally afford to buy all 114,212 homes in the city of Boston for $76.6 billion, according to Redfin.
The brokerage analyzed which billionaires on Forbes' 400 Wealthiest list could purchase the entire housing stock in various U.S. cities, and the results are astonishing to say the least. Turns out, the Walton family of Walmart fame could claim Seattle for a cool $111.5 billion, while Atlanta's $78.1-billion price tag would be a sure thing for the oil-baron Koch brothers.
The only California cities to make the list were Anaheim, where housing stock is worth $31.4 billion; the Bay Area's own Napa, which Redfin says would be an easy purchase for Amazon's Jeff Bezos at $29.5 billion; and Orange County's Laguna Hills.
---
JUMBO-LOAN REQUIREMENTS EASING
While requirements for Fannie Mae and Freddie Mac conforming loans remain strict, jumbo-loan guidelines are loosening, according to The New York Times.
Homebuyers living in pricier parts of the country like San Francisco and New York City often turn to jumbo financing because conforming loans cap out at about $400,000 in most of the U.S. and at around $600,000 in expensive areas. But jumbo loans also generally require better credit scores and more money down.
However, now lenders are eager to accommodate more potential borrowers by making some exceptions, such as counting capital gains as income, the Times reports.
"Lenders are having to get a little bit more creative," mortgage specialist Jordan Roth told the newspaper. "They're taking good, strong loans with quality borrowers who have compensating factors to overcome a challenge in credit, income or whatever."
---
TIPS FOR BUYING YOUR COLLEGE KID A CONDO
Considering buying your college student a condo near school? The purchase can be a good investment so long as the market appreciates while junior's hitting the books.
But, as always in real estate, it's important to weigh the pros and cons, and the Los Angeles Times has some tips for you.
Some factors the newspaper recommends considering:
Is the school planning to move its campus to another location, thus impacting demand for units?
How well-managed is the complex you're considering?
Are there liens or pending work orders on the condo?
(Photo: Flickr/David Amsler)