Here's a look at recent news of interest to homebuyers, home sellers, and the home-curious.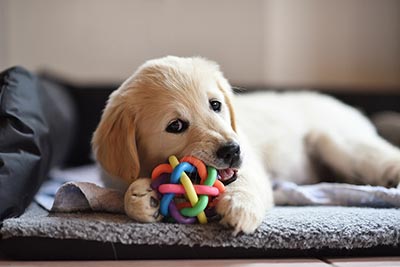 THREE-QUARTERS OF BUYERS WOULD FORGO DREAM HOME IF IT DOESN'T FIT FIDO'S NEEDS
A recent report found that homebuyers are willing to make significant sacrifices to obtain access to top-performing school, and now another survey shows that they are willing to do the same to accommodate their four-legged family members.
Eighty percent of respondents to a poll conducted by realtor.com reported owning pets, with dogs the most popular animal. Of those that own a pet, nearly 90 percent said that they took their animals' needs into consideration during their home search.
Furthermore, 75 percent of those surveyed told realtor.com that they would pass up their dream home if it was not right for their pets. And that doesn't include just dog and cat owners; even those that own fish or reptiles would not buy a dream home that could not properly accommodate their creatures.
When they do find a home that suits their pets' needs, nearly half of Americans say that a yard is the most important amenity. About one-third cited some type of outdoor space and a garage, while one-quarter want a dog run or close proximity to a park where their pooch can frolic.
---
BAY AREA HOMEOWNERS REMAIN THE COUNTRY'S MOST EQUITY-RICH
The run-up in California and Bay Area home prices during the housing recovery has buoyed owners, with both the state and the region again boasting the highest number of equity-rich households in the second quarter.
That's according to ATTOM Data Solutions' latest U.S. Home Equity & Underwater Report, which says that 43.5 percent of California homeowners were equity-rich as of the second quarter, the most in the country. The company defines equity-rich homeowners as those who have at least 50 percent equity in their properties.
As in previous quarters, San Jose has the country's most equity-rich homeowners, with 71.9 percent falling into that category. San Francisco ranks second for the number of equity-rich households (60.8 percent), followed by Los Angeles (47.9 percent).
All five of America's most equity-rich ZIP codes are in the Bay Area, led by San Francisco's 94116 ZIP code, where 85.9 percent of owners have at least 50 percent equity in their homes. The top five also includes San Francisco's 94122 ZIP code, two in Sunnyvale, and one in Mountain View.
---
NO HOUSING MARKET CRASH LOOMING, PROMINENT INDUSTRY EXPERT SAYS
With both existing-home sales and housing starts slipping, some observers are worried that another downturn is on the horizon, but at least one industry expert believes that those fears are unfounded.
Demand for homes remains strong across the country, writes National Association of Realtors Chief Economist Lawrence Yun in a column for Forbes. He points to continually declining inventory levels — along with the fastest pace of sales in a generation – and notes that while the lack of supply is a concern, it is a better problem to have than a lack of buyer demand.
Yun points out how today's housing market conditions are different than they were a decade ago. First, lending standards are much more stringent now than they were in the years leading up to the crash. Also, supply conditions were the opposite before the recession, when builders were constructing more homes than were necessary to meet demand.
Yun calls the chance of a housing market collapse "near nil" and projects 8 percent home price appreciation in both 2018 and 2019.
---
CALIFORNIA CLAIMS 19 OF THE NATION'S 20 LEAST-AFFORDABLE HOUSING MARKETS
A recent report from the California Association of Realtors put the state's housing affordability at a 10-year low, and it turns out the entire country is in the same boat.
The latest Housing Opportunity Index from the National Association of Home Builders and Wells Fargo says that 57.1 percent of new and existing U.S. homes sold in the second quarter were affordable to a household earning the median income, the lowest since 2008. For the third straight quarter, San Francisco was the country's least-affordable major housing market, with only 5.5 percent of residents able to purchase a home despite a six-figure median income.
All of America's five least-affordable large housing markets are in California, rounded out by Los Angeles, Anaheim, San Jose, and San Diego. Ditto for the country's least-affordable smaller housing markets: Salinas, Santa Cruz, Napa, San Luis Obispo, and San Rafael. Supplemental HOI statistics show that 19 of the nation's 20 least-affordable places to buy a home in the second quarter are in the Golden State.
(Photo: iStock/Photology1971)