Here's a look at recent news of interest to homebuyers, home sellers, and the home-curious.
SAN JOSE, SAN FRANCISCO CONTINUE TO LEAD THE NATION FOR MOST EQUITY-RICH HOMEOWNERS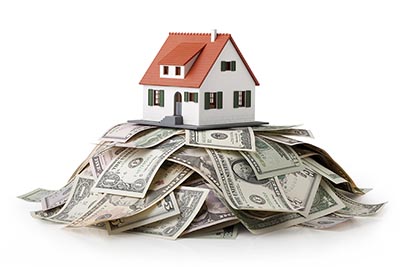 Nationwide, home price appreciation pushed up the number of equity-rich owners in the third quarter, with San Jose and San Francisco once again leading the U.S. in that respect.
That's according to ATTOM Data Solutions' latest U.S. Home Equity & Underwater report, which says that there were more than 14 million equity-rich homes in the third quarter, defined as those where the loans comprised 50 percent or less of the property's estimated value. That translates to 26.4 percent of all homes with a mortgage, up on both a quarterly and annual basis.
"Median home prices nationwide are up 9.4 percent so far in 2017, the fastest pace of appreciation through the first three quarters of a year since 2013,"ATTOM Data Solutions Senior Vice President Daren Blomquist said. "Continued home price appreciation is also helping to grow the number of equity rich homeowners across the country compared to a year ago."
As in the first-two quarters of this year, San Jose and San Francisco had the largest number of equity-rich homeowners in the U.S., a respective 61 percent and 56.4 percent. That's a significant increase from the second quarter, when 52 percent of homeowners in San Jose and 47 percent of homeowners in San Francisco were classified as equity-rich.
---
THREE-PERCENT LOANS COULD BOOST FIRST-TIME BUYER ACTIVITY
Several hurdles are preventing more first-time buyers from taking advantage of today's low mortgages rates, but lenders are optimistic that 3 percent down payment products will help motivate that segment of the market.
Citing survey results from Genworth Mortgage Insurance, HousingWire reports that 57 percent of lenders believe that the share of first-time buyers will grow faster than the overall housing market in 2018. Nearly two-thirds of lenders expect demand for 3 percent down payment loans to pick up next year, with Genworth Mortgage Insurance President and CEO Rohit Gupta saying that such products are performing well at the company and that they are prudent given today's strong underwriting standards.
Although low-down-payment loans may help some millennials and other first-time buyers get a foot in the door, these buyers still face substantial challenges, including a lack of affordable homes on the market and student debt.
---
MOVE-UP BUYERS ARE WAITING OUT THE REAL ESTATE MARKET
One reason for the lack of affordable options for first-time homebuyers is that many move-up buyers are sitting on the fence, unsure of how they will fare in the current market.
A ValueInsured survey found that 79 percent of homeowners think that now is a good time to sell a home. Of those who are interested in selling their properties, nearly three-quarters are concerned with timing the real estate market properly. About 60 percent of potential sellers do not want to purchase another home given the current high prices, and a near equal amount are waiting for prices to stabilize before they put their current home on the market.
ValueInsured also asked Americans what current buyer trends they believe will be future mistakes, as home shoppers take extraordinary measures to close a sale amid tight supply conditions. Forgoing a home inspection was the top choice, cited by 58 percent of respondents, followed closely by purchasing a home without seeing it and co-buying property with strangers.
---
HOUSING STARTS APPROACHED POSTRECESSION HIGH IN OCTOBER
News regarding America's inventory crunch can be disheartening for would-be homebuyers, but they can at least take some comfort in the fact that more new homes are in the pipeline.
A blog post from the National Association of Home Builders says that U.S. housing starts rose to a seasonally adjusted annual rate of 1.29 million units in October, up 13.7 percent year over year and the second highest since the end of the recession. In a statement accompanying the report NAHB Chief Economist Robert Dietz said that single-family home production should continue to pick up speed provided that the job market keeps driving buyer demand.
The West was the only U.S. region in which housing starts fell in October, declining by 3.7 percent year over year. Permit activity picked up in all regions, as the West led the way with 13.0 percent growth.
(Image: iStock/malerapaso)