Here's a look at recent news of interest to homebuyers, home sellers, and the home-curious.
AMERICANS' CONFIDENCE IN THE HOUSING MARKET CLIMBS TO ALL-TIME HIGH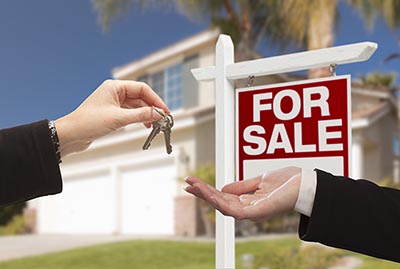 Rising home prices and a strong U.S. economy have propelled Americans' optimism in the housing market to a record high, though persistent inventory shortages will likely remain a challenge for the foreseeable future.
Fannie Mae's latest Home Purchase Sentiment Index rose to 91.7 in April, an all-time high, with five of the six indicators increasing from the previous month. Forty-five percent of respondents to the poll believe that now is a good time to sell a home, which is also the highest in the survey's history.
The U.S. unemployment rate fell to 3.9 percent in April, near an 18-year low, and the economy is clearly boosting Americans' optimism about the housing market. More than three-quarters of those surveyed told Fannie Mae that they are not concerned about losing their jobs.
If now might be the best time to sell a home across the country, the window seems to be particularly optimal in California this spring. In late March, a SmartAsset report put 17 of the best 25 U.S. housing markets for sellers in the Golden State. And last month, an analysis from ATTOM Data Solutions found that May, June, and July are the best times to list a home in most California cities.
---
SAN FRANCISCO HAS THE FEWEST DELINQUENT MORTGAGES IN THE NATION
Nationwide, the number of homeowners who are delinquent on their mortgages is near its prerecession low, with San Francisco having the fewest delinquencies among the largest U.S. cities.
That's according to a CoreLogic report, which says that 4.8 percent of homeowners with a mortgage were in some stage of delinquency in February, the lowest since 2007 and near the pre-crisis average of 4.7 percent. Foreclosure rates have returned to their prerecession lows of 0.6 percent.
Of the 10 largest U.S. metropolitan areas, San Francisco has a mortgage-delinquency rate of 1.7 the lowest in the country. Along with their neighbors in San Jose, San Francisco residents are among the least likely in the country to be denied mortgages, according to a recent LendingTree study.
---
SOLAR PANELS ARE NOW A MUST FOR ALL NEW CALIFORNIA HOMES
Although most California homebuyers are not particularly interested in solar panels, they will soon get them anyway if they purchase a new property
As the Los Angeles Times reports, the California Energy Commission last week unanimously voted in favor of a measure that will require solar-energy systems in all newly built single-family homes and smaller multifamily structures. The initiative, which will take effect in 2020, will add about $9,500 to the cost of construction but is projected to save homeowners $19,000 in energy bills in the long run.
According to a report from The Mercury News, the Bay Area is ahead of the state when it comes to energy-efficient homes, as a handful of cities — including San Francisco — already have some solar requirements on newly built dwellings. In San Jose, roughly one-quarter of the homes currently listed on the market mention energy-saving amenities.
---
MOST HOME SHOPPERS EXPECT THEIR SEARCHES TO GET TOUGHER
Home shoppers appear to be keenly aware of the nation's inventory shortage, and most feel that they will have a difficult time finding a suitable property this year.
The National Association of Home Builders' first-quarter Housing Trends Report found that about three-quarters of prospective homebuyers believe that their searches will get harder in the coming months, up from 65 percent in the fourth quarter. Sixty-four percent of buyers report seeing fewer desirable homes on the market than they did three months ago.
Americans are also cognizant of the housing market's deteriorating affordability conditions, with more than eight in 10 saying that they can afford fewer than half of the homes for sale.
(Photo: iStock/Feverpitched)