Here's a look at recent news of interest to homebuyers, home sellers, and the home-curious: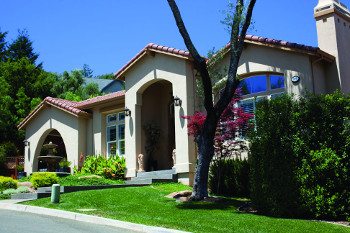 WHERE DOWN PAYMENT PROGRAMS HELP THE MOST LOCALLY
Bay Area homebuyers hoping to leverage a down payment assistance program would do best to target the Wine Country and the East Bay, according to a recent RealtyTrac study.
The company's data shows that 86 percent of properties in Sonoma County and 84 percent of those in Napa County would qualify for some form of down payment help, in line with the national average of 87 percent. In Contra Costa and Alameda counties, 74 percent and 67 percent of respective homes are eligible for financial assistance.
RealtyTrac's numbers tell a different tale in western Bay Area counties and Silicon Valley, where the percentage of properties that would qualify for down payment assistance programs was among the lowest in the nation. San Francisco trailed only New York as the U.S. county with the fewest number of qualifying properties, at 33 percent, followed by Marin County (35 percent), San Mateo County (36 percent), and Santa Clara County (43 percent).
---
SAN JOSE ECONOMIC, HOUSING GROWTH AMONG NATION'S BEST
The San Jose metro area was among the top 10 large U.S. regions for economic and housing growth in the most recent quarter, says a report from the National Association of Home Builders.
An examination of breakout data at the NAHB/First American Leading Market Index shows that San Jose's housing and employment activity was running at 107 percent of normal levels in the fourth quarter of 2014, sixth highest in the country. Nationwide, growth was still below its typical level, at 90 percent.
While home prices and employment – two of the three metrics NAHB uses to calculate its score – helped the San Jose area rank high on the index, construction activity is still lagging in the region, with permit activity at 71 percent of the typical rate.
---
OWNER OF LANDMARK ORINDA HOME SEEKS A TAX BREAK
The affluent owner of a 1940s-era Frank Lloyd Wright-designed home in Orinda is asking the Contra Costa County city to cut him a tax break to the tune of $30,000 per year, sparking a debate amongst city officials.
The San Jose Mercury News reports that Piedmont resident Gerald Shmavonian has asked Orinda's city council to decrease his property taxes from $38,000 annually to $8,100. The owner, who paid $3.3 million for the home in 2013, is seeking the break to help preserve the unique home, the only one in Contra Costa County designed and built by Wright.
While some Orinda city council members are interested in exploring Shmavonian's proposal, Mayor Steve Glazer sounds unconvinced and questioned how the tax break would benefit the public, according to the article.
---
JANUARY U.S. EMPLOYMENT REPORT WOWS ECONOMISTS
Despite the slight month-over-month uptick in the U.S. unemployment rate, prominent economists are extremely enthusiastic about January's job and wage growth, according to a blog post by The Wall Street Journal.
The U.S. economy added 257,000 jobs in the first month of 2015, while the average hourly wage for private-sector employees grew by 0.5 percent from December. Though the national unemployment rate rose from 5.6 percent in December to 5.7 percent in January, Ian Shepherdson of Pantheon Macroeconomics said the increase should be ignored, characterizing it as "noise."
Shepherdson, who called employment growth "astonishingly strong," wasn't the only economist excited about the numbers. Gennadiy Goldberg of TD Securities gave it a "10 out of 10," while Guy LeBas at Janney Montgomery Scott put it this way:
"Before long, the U.S. economy is going to run into a problem that was unimaginable just six months ago: We might run out of people to employ," LeBas told the publication.