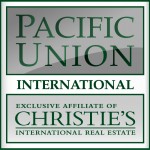 M E M O R A N D U M
To: Real Estate Connect attendees
From: Pacific Union International
Date: Aug. 1, 2012
Subject: Welcome to San Francisco!
– – – – – – – – – – – – – – – – – – – – – – – – – – – – – – – – – – – – – – – – – – – – –
On behalf of the 453 real estate professionals (and all the staff) here at Pacific Union, welcome to San Francisco and to Real Estate Connect! The folks at Inman News are expecting more than 1,400 people for the three-day conference, which opens today at the Hilton San Francisco Union Square hotel.
We know you'll be busy, with more than 100 speakers and dozens of conference sessions on the agenda. (The list of speakers include our own Mark A. McLaughlin, CEO of Pacific Union, and CC Holland, vice president for digital media and content.)
But along with the conference and the networking, we hope you'll take some time to relax, too, and explore our beautiful, one-of-a-kind city. To get you in the mood, click on this YouTube link and enjoy Tony Bennett singing "I Left My Heart in San Francisco" (it's our official anthem). Then come back here for some insider tips on what to see and do when you're outside the hotel.
We've compiled two Insider's Guides just for you. Both are PDF files, so they can be viewed on a computer, printed, or downloaded to your digital tablet and smartphone.
Click on the image below, left, for your best bets for shopping, theaters and sightseeing, plus tips on getting around town. The image below, right, presents our real estate professionals' favorite picks for swanky cocktails and cold brews within walking distance of Union Square. Salut!