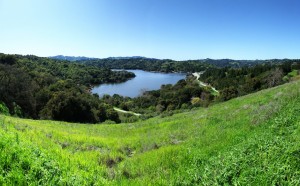 Known for its excellent schools, outdoor recreation areas, and revitalized downtown, the city of Lafayette is experiencing a jump in homebuyer demand.
In August the number of single-family homes for sale in Lafayette dropped 28 percent from 123 to 88 compared with a year earlier, according to MLS data. At the same time, the number of homes under contract shot up 45 percent, increasing from 22 to 32 units.
"Our inventory is still really constrained," said Ellen Anderson, a senior vice president and regional manager for Pacific Union's Contra Costa County offices. "What comes on the market is selling quickly and over list price on a lot of these homes. We're getting multiple offers."
The average single-family home sale price in Lafayette has also been on the rise, increasing by 6 percent to $1.12 million in August compared with $1.06 million a year earlier.
Demand has been particularly strong for high-quality "A" properties, as well as older homes with good expansion and renovation potential, our Lafayette agents say. Many buyers also are looking to live in walkable neighborhoods close to downtown.
With a population of 24,285, Lafayette boasts four main neighborhoods: Burton Valley near the Moraga border with its California ranch homes and easy access to open space; downtown, which enjoys accessibility to shops, restaurants, and the city's BART station; Happy Valley with its prized elementary school, athletic club, and proximity to the Lafayette Reservoir; and Reliez Valley, featuring a rural feel, proximity to Briones Regional Park, and popular cycling routes.
Several years ago, the city made national headlines for an Iraq war memorial of thousands of white crosses protesters erected on a hillside opposite the BART station.
Lafayette's schools enjoy some of the highest rankings in Contra Costa County. Most students living in Lafayette attend Acalanes High School, which earned an Academic Performance Index, or API, score of 910 in 2011.
Lafayette residents also attend Campolindo High School in neighboring Moraga, which received an API score of 923. The Lafayette School District's elementary and middle schools recorded a combined API of 922 in 2011.
In addition to its schools, the city offers its own library and learning center, many bicycle and hiking trails, and the stunning Lafayette Reservoir. It takes around 25 minutes to travel to downtown San Francisco from the Lafayette BART station.
"Most people come to Lafayette for the schools – it's extremely family-oriented," Anderson said. "It's a big recreational town. It has trails and a reservoir, and the weather's great."
The city's revitalized downtown features outdoor dining, a Chow Restaurant, a Yankee Pier restaurant, and numerous shops and eateries. Each September the Lafayette Art & Wine Festival attracts huge crowds with its craft booths, microbrews, wine and food tasting, and live music. This year's event will take place Sept. 15 and 16.
Lafayette is also the site of Pacific Union's newest Contra Costa office at 201 Lafayette Circle, and the Chamber of Commerce will hold a ribbon-cutting ceremony for us at 5 p.m. Thursday, Sept. 13. The public is welcome to attend!
(Photo of Lafayette courtesy of Sean O'Steen, via Flickr.)