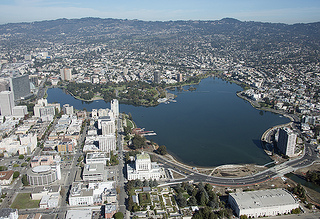 Situated on the north shore of Lake Merritt with easy access to freeways, public transportation, and restaurants to suit any palate, Adams Point attracts Oakland homebuyers who place a premium on convenience.
Triangular in shape, Adams Point is bordered by Grand Avenue to the south, Vernon Street to the north and west, and Interstate 580 to the north and east. The latter connects directly to several of the Bay Area's major highways, including Interstate 80 and state Route 24.
Those who commute by public transportation will appreciate Adams Point's close proximity to the 19th Street BART station, one of the system's East Bay hubs. AC Transit's NL bus line, which runs down Grand, offers another way to quickly reach downtown San Francisco.
Though almost exclusively residential, Adams Point is within an easy stroll of several of Oakland's most bustling neighborhoods.
"(Adams Point) is centered between two downtown plazas, downtown Lakeshore and Uptown Oakland," user Bayareabound wrote on Pacific Union's Adams Point neighborhood reviews page. "Each location features a plethora of shopping and dining options fit for any taste and budget."
Even so, Adams Point residents don't need to go past the neighborhood's southern border to find a more than suitable meal. Standouts include Coach Sushi, which offers a bottomless sake promotion, and Sidebar, which serves a variety of entrees, snacks, and cocktails. Other restaurants on Grand dish up a diverse array of cuisines, such as Mexican, Ethiopian, Thai, and Chinese.
Residents also won't need to stray far to grocery shop, thanks to a Whole Foods Market located in the neighborhood's southwestern corner.
Adams Point lies directly to the north of Lake Merritt Park, home to the majority of the tidal lagoon's attractions. Families enjoy Children's Fairlyand, a miniature theme park that has entertained local kids since 1950. Park visitors can also stroll through botanical gardens and rent a boat, canoe, or kayak at the Lake Merritt Boating Center.
Perched along hilly streets – some with views of downtown Oakland — single-family homes in the neighborhood come in a range of architectural styles, including Craftsman and Mediterranean. According to MLS data, the December median sales price for a home in Oakland's 94610 ZIP code, which includes Adams Point, was $985,000, a year-over-year increase of 26 percent and the highest in the past two years.
One of the major trends we saw in Pacific Union's East Bay region in 2013 is buyers' willingness to pay more than list — anywhere from 2.4 to 13.5 percent above original price.
The 94610 ZIP code was no exception to this rule, with buyers bidding over asking price in all but one month of 2013. In December homebuyers in the ZIP code paid an average of 9.6 percent more than list price.
(Photo: Flickr/Michael Rymer)