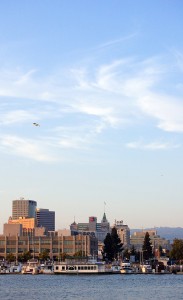 With major changes under way at Oakland's Jack London Square, some are calling the area "a beacon of light" for the city of 400,000.
New buildings have gone up at the square over the last few years as part of a $350 million redevelopment project that began almost a decade ago. With major tenants moving in and the Jack London Square Market scheduled to open next year, city officials are predicting the site will attract even more visitors and residents to Oakland.
"This is going to be the center of something good," Oakland Mayor Jean Quan told The Registry. "It's one of the most transit-rich sites. Walk around here, you've got the railroad, the ferry, (Interstate) 880, and Oakland's the only city that has all five BART lines run through the city."
Office space at the six-level, 172,000-square-foot building at 55 Harrison St. is nearly full, with around 90 percent leased. Major tenants include solar company Sungevity, softwaremaker Navis, and chef Daniel Patterson's Haven restaurant.
U.S. Sen. Barbara Boxer has moved her Bay Area staff offices to Jack London Square as well, and The Forge artisanal pizza restaurant plans to open there in coming months.
Meanwhile, Jack London Square Ventures – a real estate and development partnership – has been organizing cultural events like the SoundWaves live music series, Dancing Under the Stars, and outdoor movie screenings to liven up the area. Recent upgrades including tables, benches, and a new play area have further spruced up the square.
"I often think, 'How can we tap into the community, how can we tap into Oakland and the East Bay to bring people and draw people to Oakland, bring them to Jack London Square … to enjoy this beautiful scene, to appreciate the waterfront?' " Linda Meyer, a marketing director for the partnership, told Oakland North.
Already this year, Oakland's housing market has been sizzling. In July the Oakland metropolitan area led the nation in the greatest reduction of housing inventory, as well as the shortest number of days on market, according to Realtor.com data.
The city's apartment rents have also seen a huge uptick. In the third quarter, asking rents for buildings with 50 or more units increased 19 percent from a year earlier, rising to an average of $1,925, a recent RealFacts report said. And housing experts say San Franciscans are moving to Oakland as rents in the City by the Bay reach astonishing new highs.
In another nod to Oakland's growing cachet, Forbes magazine recently ranked the city's Uptown neighborhood No. 9 on its list of the top 20 hipster neighborhoods in the United States.
"The improvements to Jack London Square make Oakland, on the whole, a more vibrant and desirable place to live," according to one of Pacific Union International's top real estate professionals in Oakland. "It used to be if you lived in Oakland and were really into food you had to go into San Francisco to eat at acclaimed restaurants. Now there are so many choices here in Oakland, including at Jack London Square, that there is one less objection to moving over the bridge.
"It improves the overall image of the city, and that is a good thing for all of Oakland's current and future residents."
(Photo of Jack London Square by SlinkyDragon, via Flickr.)