Seventy-nine percent of California homeowners believe there will be a price correction by 2020.
Sixty percent of U.S. homeowners think that buyers in their neighborhood are currently paying too much.
Nearly two-thirds of Americans think that people who buy a home today will have buyer's remorse within the next year.
California's median single-family home price reached a new high in May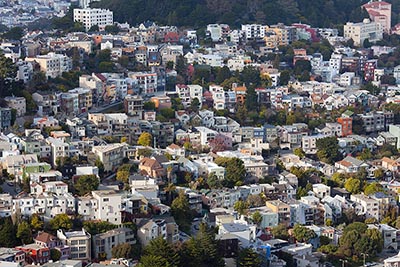 , but most owners in the state believe that the rapid appreciation seen over the past few years will not last much longer.
That's according to survey results from ValueInsured, which found that seven in 10 Americans believe that a housing correction will occur by 2020. Seventy-one percent of homeowners believe that the current price run-up is not sustainable compared with 65 percent of those that do not own a home.
In states that have seen robust price appreciation, homeowners are even more certain a correction is looming. About 80 percent of owners in California and Texas predict slowing prices over the next few years.
Similarly, 60 percent of homeowners said that people who were buying in their neighborhood now are overpaying. About two-thirds of respondents felt that they themselves would be paying too much if they were to sell their home now and buy again, which ValueInsured says is dissuading many prospective sellers from putting their properties on the market.
High prices and the prospect of slowing appreciation mean that most Americans — 62 percent — expect that people who buy a home in the current market will have buyer's remorse within the next year. One-quarter of those surveyed believe that the buyer's remorse will mirror that of those who purchased before the housing crash began 10 years ago.
Speaking of buyer's remorse: Paying too much for a home is not the only regret that homebuyers with children might have, according to a new realtor.com blog post. While most prospective buyers who have or are planning to have kids likely consider school districts when making a decision, there are some aspects of a home and neighborhood that parents often overlook, including:
Master bedroom placement for easy access to a nursery
Sidewalks to buffer children from traffic
An open floor plan and a clear view of the backyard to make it easier to monitor children's activities
A flat lot and street so that kids can easily ride bicycles
Safe heating systems to protect children from burns
A walkable neighborhood to minimize time spent packing a car with strollers and bags
Good neighbors
(Photo: iStock/tifonimages)