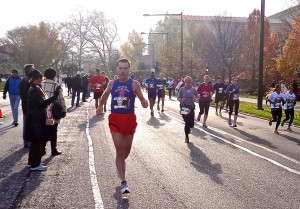 Congratulations to Pacific Union International's own Mike Fanelli, who ran his 100,000th lifetime mile (and then some) last weekend at the Philadelphia Marathon.
Fanelli's 100,000 miles is an accomplishment few runners achieve and is the equivalent of running roughly five miles every day for 55 years.
"The 100,000th was mile 13 to mile 14 (in Philadelphia)," Fanelli said. "I actually backed off in my training a little this past week so that I could make that particular stretch of real estate the biggie. It runs from the art museum to Boathouse Row, where I started and finished my very first marathon back in 1972."
Fanelli, 56, began running in junior high and has recorded his training ever since. His "personal bests" include a 4:16 mile, a 2:25 marathon, and completing 100 miles in 16 hours and 40 minutes. Fanelli has twice won the San Francisco Pacific Rim Marathon, in 1988 and 1989 — and at age 50, he could still run a mile in 4:56.
Want to know more about Fanelli's running career? Here's an earlier blog entry we wrote. He also received front-page coverage in the San Francisco Chronicle, and a writeup in the Marin Independent Journal.
And thanks to all of our real estate professionals who went the extra mile this year!