Each Friday, Pacific Union International takes a look at the people, places, and things we're talking about in our Bay Area neighborhoods. Here's what caught our eye this week: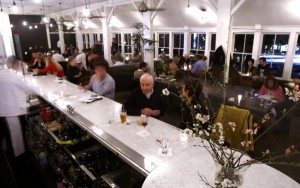 SAN FRANCISCO
A local restaurant is ducking California's foie gras ban. The Presidio Social Club plans to feature the forbidden food as a menu staple, starting this weekend with a foie gras slider. How can this be? Location, location, location. Because the Presidio is federal land, the restaurant maintains it is exempt from local laws.
MARIN COUNTY
The San Anselmo Town Council may move to ban chain stores. The council agreed to study the ban after hearing complaints about the Red Hill Shopping Center, where remodeling project has resulted in increased rents and some leases not renewed. The prospect of chain stores moving in raised concerns over aesthetics and the impact they might have on existing small businesses.
NAPA COUNTY
Lenore Wilson has been named Napa County's poet laureate. A unanimous choice by the Napa County Board of Supervisors, Wilson is a writing instructor at Napa Valley College and will serve through 2014. As poet laureate, she will serve as an ambassador for the art, promoting awareness of poetry and helping others appreciate it more.
Sonoma County beachgoers are getting an eyeful this year: Blue whales are being seen off the Sonoma coast in greater numbers as they feed on an abundance of krill, the small shrimp-like crustaceans that populate the ocean. The krill is unusually close to shore this year, bringing the whales closer, too.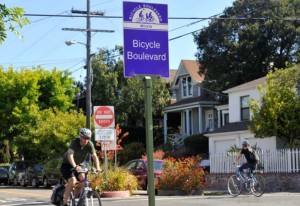 City officials in Berkeley are taking steps to make the city's streets safer for bicyclists. The plans include adding bike lanes and road signs along busy streets and also reconfiguring some bike paths in the city. One proposal, not yet final, would narrow Hearst Avenue from four lanes to two, and adding bike lanes in both directions. Hearst has one of the highest bike collision rates in the city.
Efforts are under way to develop a plan of action to protect the largest watershed in Contra Costa County. Local governments, agencies, and environmental groups are joiniong forces to create the Walnut Creek Watershed Council, a  voluntary, nonregulatory group to support healthy and sustainable creeks and streams. The watershed encompasses more than 150 square miles and crosses numerous political boundaries, prompting the call for coordnated action.
(Presidio Social Club image courtesy of insidecoopsf.sfgate.com; Berkeley bicyclists phot courtesy of the Daily Californian.)