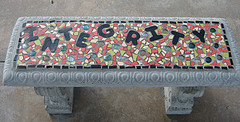 Last week, the news world and social media were buzzing about a very public resignation in the form of a New York Times opinion piece written by Greg Smith, formerly of Goldman Sachs.
In his letter, Smith called Goldman's corporate culture "toxic and destructive"  and explained that he no longer had the "pride…or belief" to continue working there after nearly 12 years at the firm. He went on to describe "decline in the firm's moral fiber" and ascribed it to one major factor: a change in the way the company thought about leadership.
While we see no need to elaborate on what Smith wrote, we are obviously missing the balanced response from Goldman's CEO which was likely circulated internally and to Goldman's clients.
The timing is interesting. Tomorrow, Howard Schultz, CEO of Starbucks, will address an annual meeting and share the importance of culture and values for a vibrant, sustainable business. He will make the case that companies that earn the country's trust will ultimately be rewarded with a higher stock price. Smith's letter describes a business model at the opposite end of that spectrum.
Both of these stories prompted us to reflect on our values at Pacific Union International. And we're happy to say that we think we're on the right track.
Since CEO Mark McLaughlin took the helm in August 2009, we have been committed to the belief that "if we get the client service right, the rewards will follow." Our real estate professionals practice a daily commitment to this culture, even through the most stressful and emotional client engagements.
For Pacific Union International, leadership is about innovation, measured risk, and extraordinary service – with full accountability for the good, the bad, and the ugly.
Even though, as with Goldman, our clients represent the source of our revenue, they are more than that. They are our advocates, our points of pride, and in many cases, our finest friends. We know that if we do the right thing with our clients' and team's best interests, the appropriate results will follow.
Our results of the past two and a half years support this belief. In an incredibly collapsed time frame, we have been able to empower our brand, intensify our cultural commitment to teamwork, and create multiple new initiatives to support our real estate professionals and their clients. We've exceeded our financial expectations and set a few new benchmarks, and the future for Pacific Union International is indeed bright.
These are Pacific Union's core values:
Integrity – We maintain the highest moral and professional standards and honor our word in our relationships. We do the right thing even when no one is looking.
Trust – We respect each other and each other's ideas. We believe in each other's ability to deliver on commitments, creating a culture of which we can all be proud, and on which our clients can rely.
Luxury and service – We define luxury not by the price point of a home, but by the quality of our people and the unparalleled level of our service.
Accountability – We are committed to performance and results. We set clear, measurable goals and make it our personal responsibility to achieve them.
Teamwork – We recognize that through sharing and collaboration, we win both individually and collectively.
Innovation – We anticipate client needs and create opportunities that give us a competitive advantage in our markets. We value people who seek creative solutions and ideas that help us exceed client expectations.
Client focus – Our clients' goals are our top priority.
We don't only articulate our values; we support them every day. We walk the walk and talk the talk.
Thank you for your confidence in Pacific Union International and our values. Our continued dedication to these core values, both as individuals and as a team, will contribute to our brand promise of exceeding client expectations through extraordinary service, trust, integrity, and commitment.
Photo credit: glsims99 via Flickr