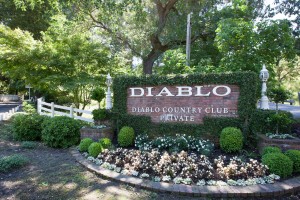 Nestled between Danville and Mt. Diablo State Park, Diablo delights its residents with a country club, elegant estate-like homes, and rich history.
"The country club is a draw; the beautiful homes and their large lots are a draw," said Ellen Anderson, a senior vice president and regional manager for Pacific Union International's Contra Costa County offices. "The people who live there are very involved with the community."
The unincorporated community of 1,158 has received a historic district designation based on 60 of its older homes. In the early 1900s wealthy Bay Area residents, including Herb Hills of Hills Brothers Coffee, built summer homes in the community surrounding the Diablo Country Club.
In 1916 trains dubbed "millionaire specials" brought more than 600 prospective buyers to the club, and William Randolph Hearst called the area a California "beauty spot" in the San Francisco Examiner, according to a Museum of the San Ramon Valley article.
Diablo has long earned accolades for its proximity to Mount Diablo and stunning vistas.
Most of the original homes lacked kitchens, and residents took their meals at the club, which today sits on 115 acres and features tennis and bocce ball courts, a swimming pool, and fitness center. Some early residents were apparently eccentric, with one family reportedly gathering its Arabian horses in the living room for Christmas Eve celebrations.
Despite its historic designation, Diablo has been relatively hands-off in regulating home demolitions and renovations.
Diablo homes for sale tend to vary in style from Craftsman to Tudor to English cottages, and prices range from $1 million to $6 million. Homes turn over infrequently.
"People go there to live," Anderson said. "It's your destination home, your move-up home."
While the community remains exclusively residential except for its golf course and post office, residents tend to dine out and shop in nearby Danville. Children attend the highly ranked San Ramon Valley Unified School District, which received an overall state Academic Performance Index score of 927 out of 1,000 in 2012.
Nearby private schools include the Athenian School and St. Isidore School in Danville.
"Diablo is quieter, more private" than nearby cities, Anderson said. "The older homes have a lot of character and a lot of charm."