Compass Commercial recently brokered an off-market record breaking sale of an apartment complex in Sunnyvale.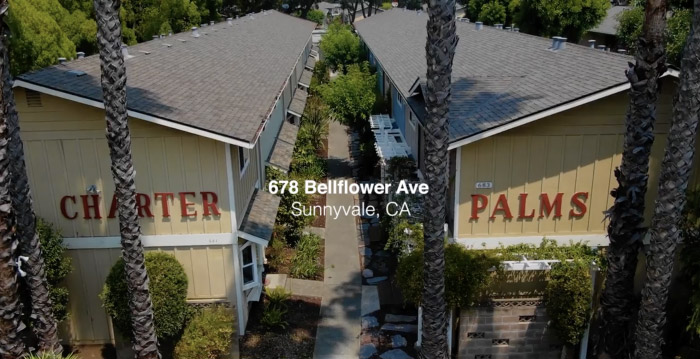 Ray Rodriguez and Tony Zizzo of The R&Z Group, one of Compass' top multi-family sales teams in the Bay Area, have broken Sunnyvale records with the sale of Charter Palms, a $49 million apartment complex.
The 93-unit property at 676-680 Bellflower Avenue and 679-683 Garland Avenue in Sunnyvale features four separate parcels totaling 4.13 acres. Three of the spacious, two-story townhomes are 3 bed, 2 bath units, while the remaining 87 units offer 2 beds and 1.5 baths.
"The Charter Palms was positioned in an unbeatable location in Sunnyvale," Ray Rodriguez and Tony Zizzo said. "The property had been a part of a long-term partnership for over 30 years and the sellers determined that now was the best time to transition from the asset and diversify into other investments."
Nestled in a lush oasis right in the heart of Silicon Valley, the apartments had been thoughtfully redesigned with new kitchen cabinetry, granite countertops, stainless steel appliances, modern flooring, and ample storage. Each apartment featured a private balcony or patio and full-size in-home laundry. The property benefited from resort-style pools and beautifully landscaped grounds.
Furthermore, the property is close to Downtown Sunnyvale with abundant shopping, dining, fitness options, and grocery stores. Nearby public transportation includes Caltrain (Sunnyvale station) and El Camino Real bus routes, offering an easy commute to Silicon Valley employers.
"We positioned the opportunity to an off-market buyer with a vision for the property over the next 5 years," the agents said. "We assisted the owners in the sale of the Charter Palms while helping them complete a 1031 exchange in to separate assets for each partner."
Compass congratulates The R&Z Group on their significant achievement!